Foreign Exchange Rates 1913-1941 #6: Hyperinflation in Poland; Russia's WWI Decline
June 1, 2014
We continue our investigation of currency histories of the 1914-1941 period.
May 25, 2014: Foreign Exchange Rates 1913-1941 #5: Devaluations By Japan and France
April 27, 2014: Foreign Exchange Rates 1913-1941 #4: Britain Leads the World Into Currency Chaos
April 20, 2014: Foreign Exchange Rates 1913-1941 #3: The Brief Rebuilding of the World Gold Standard System
April 6, 2014: Foreign Exchange Rates 1913-1941 #2: The Currency Upheavals of the Interwar Period
March 30, 2014: Foreign Exchange Rates 1913-1941: Just Looking At the Data
As before, there's a notation in the data that "rates are nominal for at least five days during the month," which I am calling "capital controls." There were no doubt various forms of capital controls before and after this as well. Also, gold values reflect the assumption that the value of the U.S. dollar was $20.67/oz. during the WWI period, which was not actually the case.
Poland: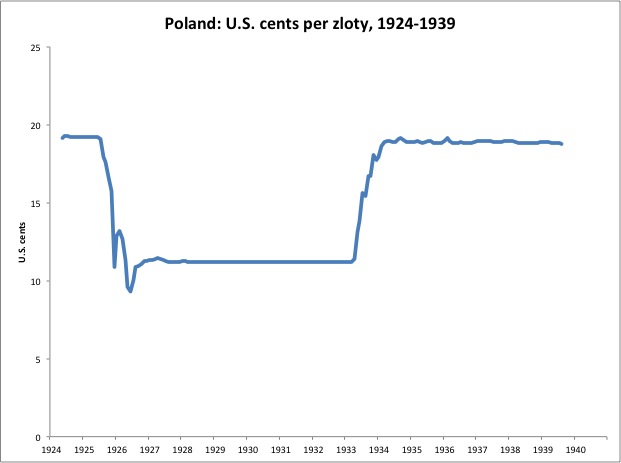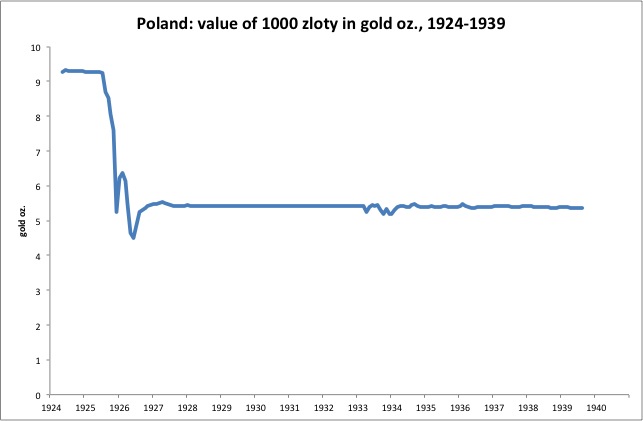 Poland had hyperinflation after WWI. This was stabilized in early 1924, and the mark was replaced by the gold-based zloty in May 1924. Alas, this too was devalued at the end of 1925. Poland did not devalue during the 1930s.

Portugal: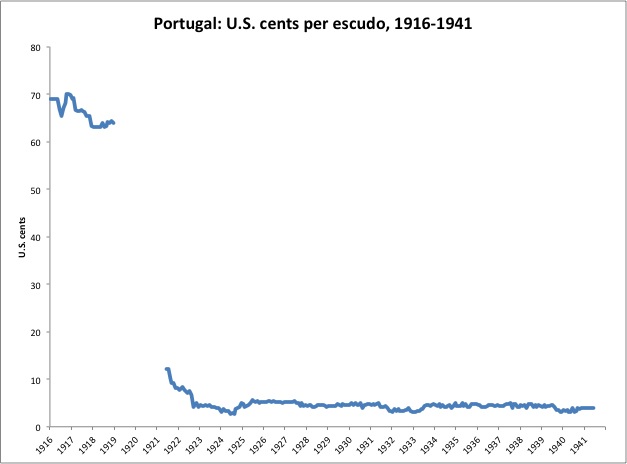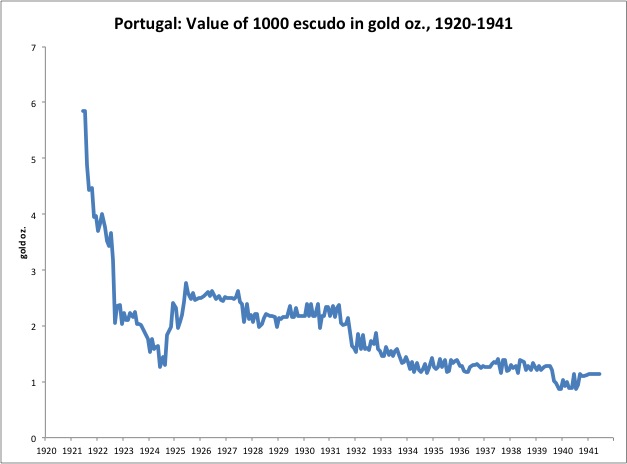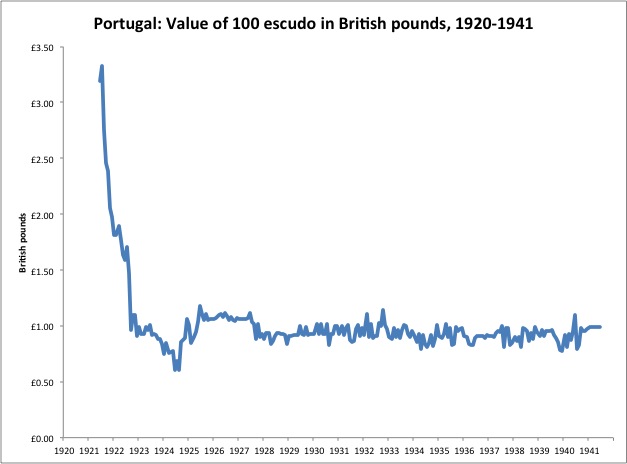 Portugal had a major devaluation after the end of WWI, which would have produced a mild hyperinflation. After repegging to gold in 1925, there was a small devaluation in 1927. Afterwards, the escudo was essentially pegged to the British pound, following the pound in its devaluation in 1931 and afterwards. The wiggles likely represent a wider-than-normal "trading band" sort of approach.
Romania: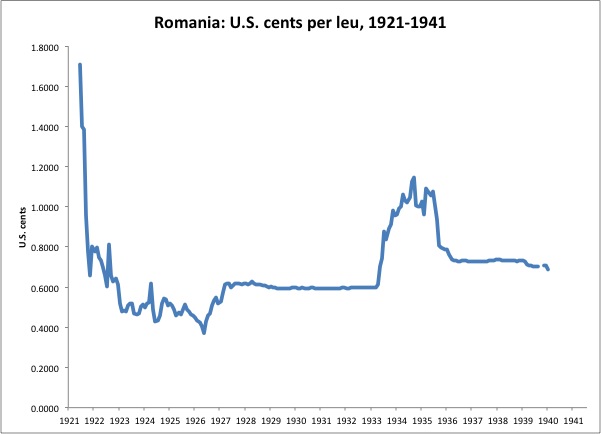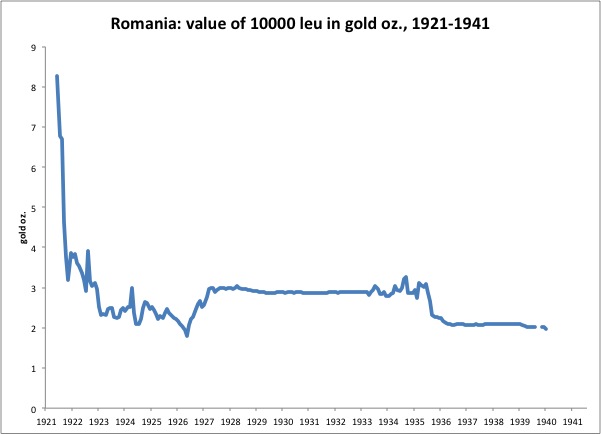 Romania also had a major decline in currency value after WWI. The currency was repegged to gold in 1927, and devalued in 1935.
Russia: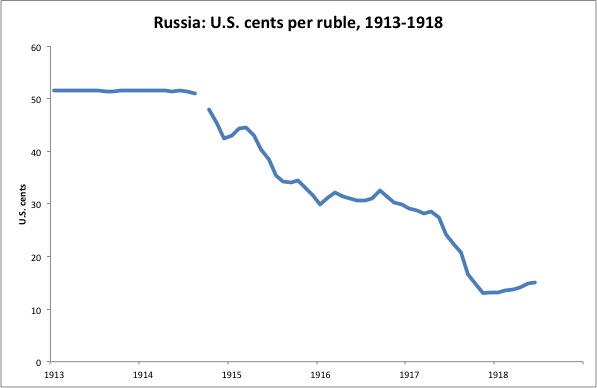 Russia's government printed money to fund WWI, as did governments elsewhere. However, this led to more currency decline than was the case in the U.S., Britain or Germany. Since the U.S. was also printing money, and the value of the U.S. dollar was not really the $20.67/oz. claimed, the degree of Russian ruble decline was also somewhat greater than is represented here. The combination of this degree of currency depreciation, plus government demands that products be sold at fixed prices, was one factor leading to the unrest that led to the communist revolution.

South Africa: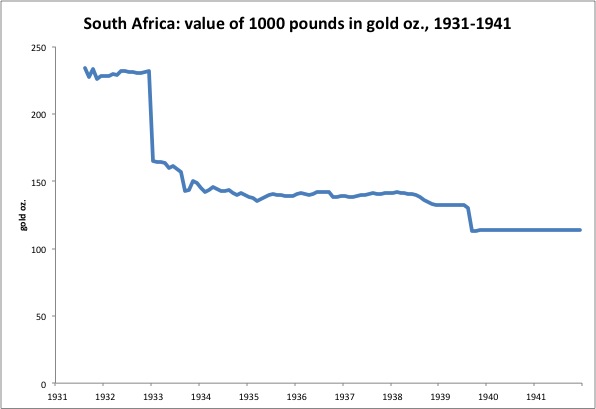 South Africa basically followed the British pound. South Africa did not follow Britain's devaluation in 1931 immediately, but did so in 1933, perhaps mirroring U.S. policy.