Foreign Exchange Rates 1913-1941 #5: Devaluations by Japan and France
May 25, 2014
We continue our investigation of currency histories of the 1914-1941 period.
April 27, 2014: Foreign Exchange Rates 1913-1941 #4: Britain Leads the World Into Currency Chaos
April 20, 2014: Foreign Exchange Rates 1913-1941 #3: The Brief Rebuilding of the World Gold Standard System
April 6, 2014: Foreign Exchange Rates 1913-1941 #2: The Currency Upheavals of the Interwar Period
March 30, 2014: Foreign Exchange Rates 1913-1941: Just Looking At the Data
As before, there's a notation in the data that "rates are nominal for at least five days during the month," which I am calling "capital controls." There were no doubt various forms of capital controls before and after this as well.
Japan: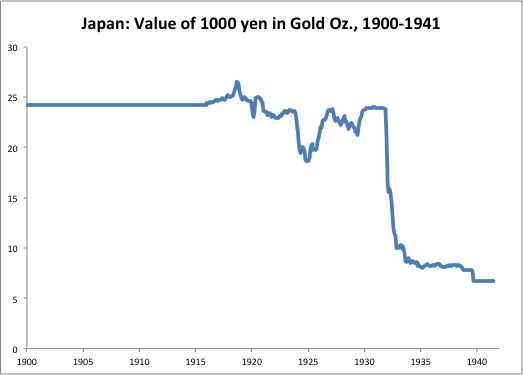 The yen was repegged to gold in 1930, after a long period of floating during the 1920s, although it didn't really deviate much from its prewar parity value. The devaluation in December 1931 was in reaction to the British devaluation in September 1931. The yen fell in value quite a lot in that 1931 devaluation.
Mexico: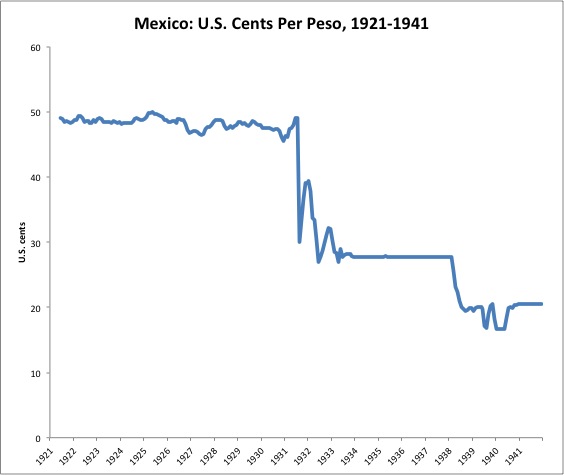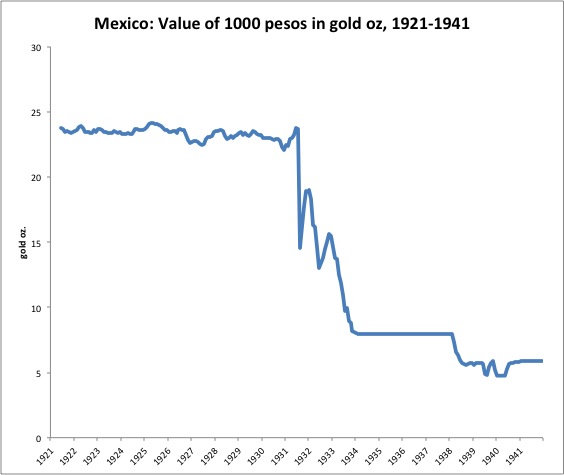 Mexico basically followed the U.S. dollar during the 1920s. The devaluation in August 1931 actually preceded the British devaluation by a bit.
Netherlands: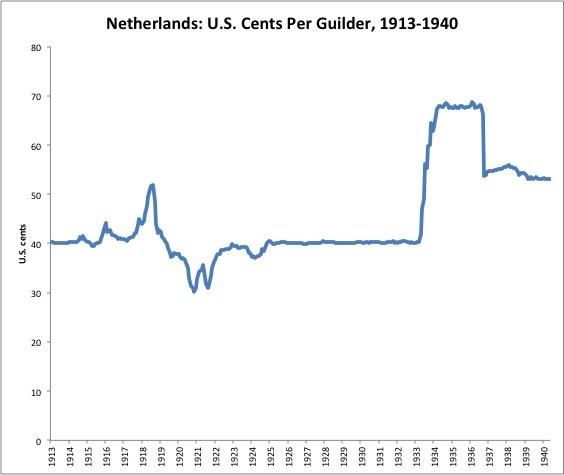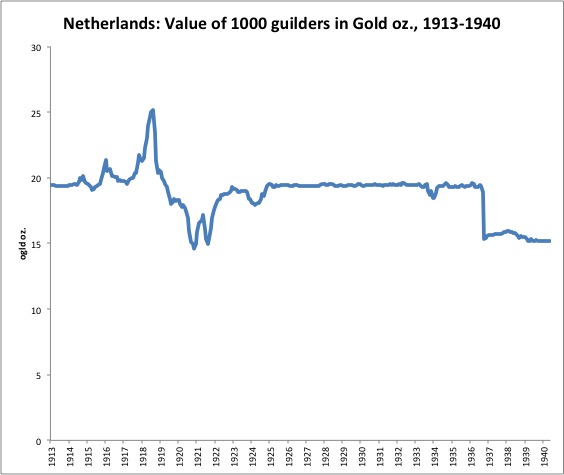 The Netherlands showed quite a lot of discipline during the difficult 1930s. There was a devaluation in 1936, along with France.
New Zealand: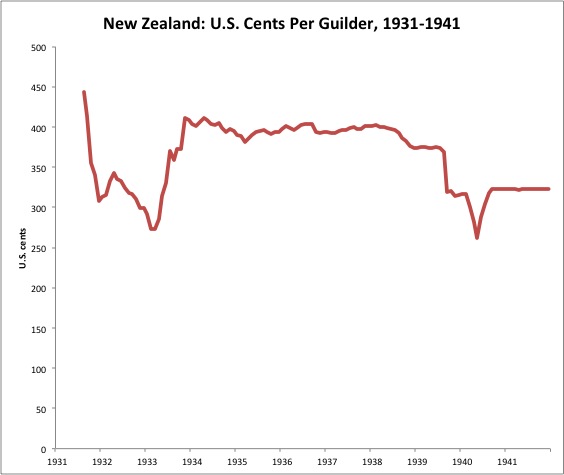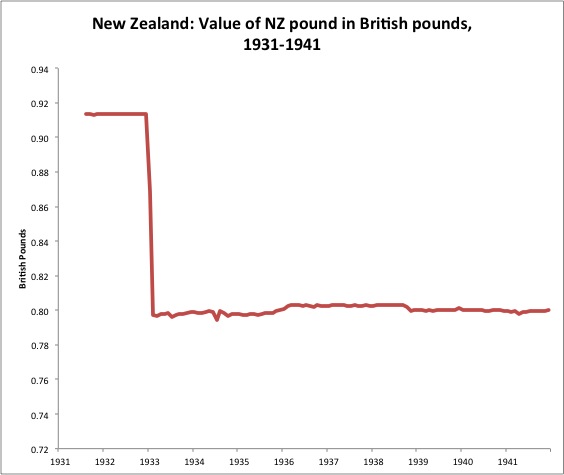 New Zealand basically followed the British devaluation of 1931, plus added another one of its own in 1932.
Norway: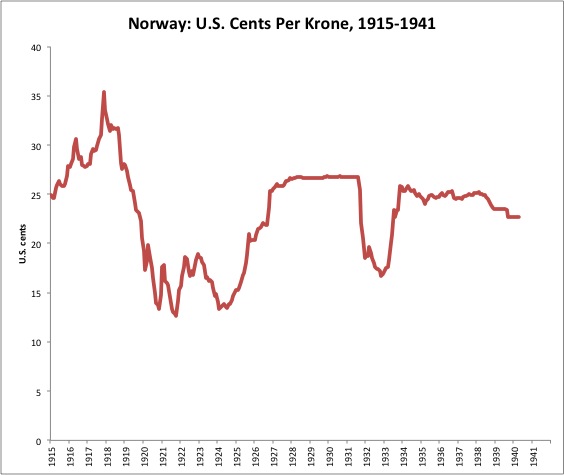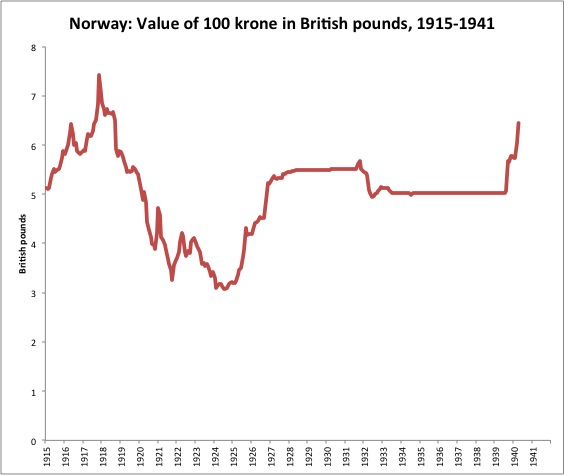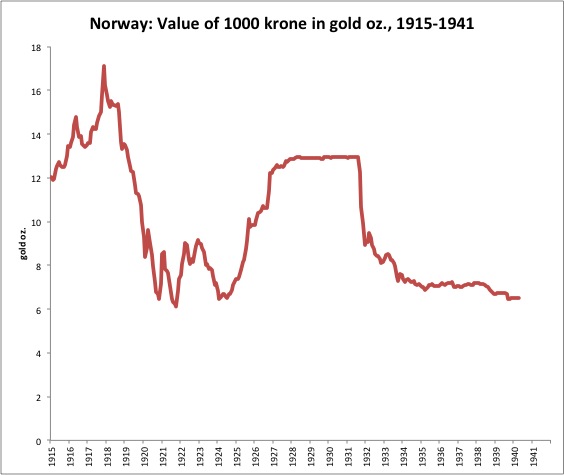 After returning to gold in 1927, Norway basically followed Britain, with a bit of extra devaluation in 1931.