Gold: The Once and Future Money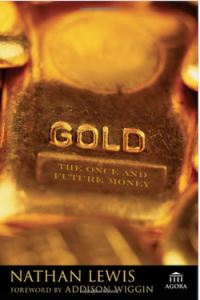 buy from Barnesandnoble.com
buy from Amazon.com
Is
Gold: the Once and Future Money
available in .pdf format?
Check Google.
Find an affordable used copy of Gold: the Once and Future Money here.
God bless the South Koreans, who gave GTOAFM many favorable reviews (in Korean) that you can read here.
It looks like the publisher Wiley has made Gold: The Once and Future Money available in free .pdf format. Read here.
"Policymakers, economists, investors—everyone—should read and reread Gold: The Once and Future Money by Nathan Lewis (John Wiley & Sons, $27.95). It's worth its weight in gold—and then some. If all grasped its basic conclusions, the world would be an infinitely richer and happier place."  Read the book review here. Steve Forbes
"This book is a fascinating historical read; I had a hard time putting it down. It is rigorous in its articulation of the economic principles involved. And it is timely, given the fact that virtually the entire global currency structure is untethered to gold or any other commodity."
Read the book review by clicking here. John Collins, CIMA
"I picked this book up a few years ago during an exhibit on gold at a natural history museum exhibition. Little did I know it was an economics book. I was at first disappointed but once I started reading I could not put it down. " Amazon Book Reviews Alex Kurtz (Amazon book reviews)
"Few books get to the real causes of the world's current economic mess better than this masterpiece. … It should be required reading for every politician and economics student." Amazon Book Reviews Gregory Lawrence (Amazon book reviews)
"This is by far the best introduction to monetary systems you will find."  Amazon Book Reviews Amazon book reviews