How to Be a Part of the Traditional City Movement
December 6, 2014
If you are a professional municipal planner, architect, or property developer with an interest in Traditional City design ideas, and would be interested in finding other like-minded property development professionals or perhaps speaking at a conference, please contact me at nathan@newworldeconomics.com
From time to time, I get emails from people, mostly young people but not always, about how they can help make Traditional City design a reality in the U.S. and elsewhere. Many are willing to devote their careers to this.
And why not? You have to do something, and why not do something that is worthwhile and makes the world a better place, and at the same time make a decent living at it, and even become quite wealthy, to the tune of tens or hundreds of millions, or even billions?
I want to create the U.S.'s first TradCity billionaire. Because, people will imitate success, and we need a lot of people and a lot of imitation to change the entirety of urbanity in North America, or even a little bit like 10%.
This is not really as out-there as it may sound. In the world of property development, there is hardly anyone who is as respected or successful as Sam Zell, founder of Equity Residential and Equity Office, among other projects. His estimated net worth is $4.9 billion.
And what does Sam Zell have to say these days?
October 8, 2013

Young people shunning the suburbs in favor of the hustle and bustle of city life are leading the charge in the "reurbanization of America," real estate mogul Sam Zell told CNBC on Tuesday.

"You're drawing all the young people in America to these 24/7 cities. The last thing they want to do is live in the suburbs," Zell said in a "Squawk Box" interview. "In that respect, you're increasing demand for housing in the urban markets."

The demand for the suburban lifestyle had been driven mainly by safety and schools, he said. "If you wanted to see the end of suburbia, all you'd need to do is make the school systems in the cities triple-A and why would anybody live in the suburbs," Zell said.

One of the byproducts of people moving to cities is soaring demand for apartments. "We are seeing 96 percent occupancy," said Zell—who's chairman of the real estate investment trust Equity Residential, one of the largest apartment groups in the country. Of the 18,000 units the REIT manages in New York City, Zell estimated 45 percent are occupied by just one person.
Do you think that Zell, who already wants to create "urban environments," might want to know how to create better urban environments for less money, thus creating a more attractive product which is in high demand and thus can be sold for a bigger profit margin?
Duh … yes.
You see how simple this is?
That's why I've been writing about How To Make a Pile of Dough With the Traditional City.
September 23, 2012: Corbusier Nouveau 3: Really Narrow Streets With High-Rises
August 26, 2012: Corbusier Nouveau 2: More Place and Less Non-Place
August 19, 2012: Corbusier Nouveau
September 7, 2014: HTMAPODWTTC 14: Mobile Homes and Manufactured Housing
July 13, 2014: HTMAPODWTTC 13: Getting Other People's Cooperation
May 18, 2014: HTMAPODWTTC 12: Trailer Parks and Mobile Home Parks
January 20, 2013: HTMAPODWTTC 11: The Diminishing Returns of Suburbia
November 11, 2012: HTMAPODWTTC 10: Let's Bulldoze a Big Box Shopping Center 2: No, Seriously
July 1, 2012: How To Make a Pile of Dough With the Traditional City 9: Townhouses With Parking
April 22, 2012: How to Make a Pile of Dough With the Traditional City 8: Shared Parking
April 1, 2012: How To Make a Pile of Dough With the Traditional City 7: Let's Bulldoze a Big Box Shopping Center
August 21, 2011: How To Make A Pile of Dough With the Traditional City 6: Better Than a Thousand Words
July 31, 2011: How To Make a Pile of Dough With the Traditional City 5: The New New Suburbanism
July 17, 2011: How To Make A Pile of Dough With the Traditional City 4: More SFDR/SFAR Solutions
June 12, 2011: How to Make a Pile of Dough with the Traditional City 3: Single Family Detached in the Traditional City Style
May 15, 2011: How To Make A Pile of Dough With the Traditional City 2: A Ski Resort Village
August 22, 2010: How to Make a Pile of Dough with the Traditional City
Because, we need dozens of people like Zell making billions in profit by building beautiful places for people to live, work, and play.
People don't really understand how housing, or commercial developments, are created today. Mostly, it is big business. Let's look at Equity Residential, which operates and develops rental apartments.
The company is publicly traded, under the NYSE ticker EQR. It has a market cap of $25.5 billion, and an enterprise value $36.6 billion.
http://finance.yahoo.com/q/ks?s=EQR+Key+Statistics
The company's website is here:
http://www.equityapartments.com
You can learn about the company from a business perspective here:
http://investors.equityapartments.com/CorporateProfile.aspx?iid=103054
Let's look at the company's 2013 Annual Report, available here:
http://www.equityapartments.com/corporate/library/pdf/annualreports/annual2013/2013AnnualReport.pdf
Equity Residential operates rental apartments. It mostly does not sell condos or single-family homes. However, it also develops new rental apartment complexes.
Dear Fellow Shareholders,

2013 was an extraordinary year for Equity Residential:

• We completed a ten-year strategic plan to totally transform our portfolio of assets by closing a $9 billion acquisition and seamlessly integrating over 20,000 high-quality, well located apartment units across our core markets.
• We met our pricing expectations in the sale of more than $4 billion of non-core assets and completed our exit from several low-barrier, commodity markets across the country. These sales produced an economic gain of over $900 million and an unlevered internal rate of return of 10%.
• We delivered our third consecutive year of above-trend operating results by producing 4.5% revenue growth from our same store portfolio of more than 80,000 apartment units.
• We celebrated our 20th anniversary as a public company and are pleased to have delivered an annual total shareholder return of 13% over those twenty years.

Many of you have been shareholders in Equity Residential from the start and you know our growth story. When we went public in August of 1993, we owned 21,000 garden-style apartment units across the Midwest, South and Texas. At the time we were the largest public apartment company with an enterprise value of approximately $800 million.

Over the next seven years we rapidly grew through mergers and acquisitions to more than 220,000 apartment units across more than 50 markets. However, as we entered the new millennium, we recognized that the country and our economy were changing and that our portfolio of surfaced-parked garden apartments would not likely deliver optimum results going forward. We knew that higher-density urban markets with strong demand and limited supply would produce the best long-term results. We also knew that it would not be easy to make such a significant change. Nevertheless, we embarked on a major portfolio transformation during which we have sold more than $19 billion of primarily garden-style apartment assets in lowbarrier, commodity markets like Phoenix, Dallas and Atlanta and acquired more than $22 billion of primarily mid- and high-rise assets in large, high-density, high-barrier to entry gateway cities such as Boston, New York, San Francisco and Seattle.

Today, Equity Residential owns and operates the highest quality, best located portfolio of apartment assets in the public apartment space. Our focus on high-quality assets in top growth markets is reflected in the fact that we have one of the highest average monthly rents in the public apartment space. Our enterprise value has grown to more than $30 billion and we remain the largest public apartment company.

Throughout this journey, we have created significant value in our portfolio because assets in our core markets have increased in value far more than assets in the markets which we have exited. However, along the way, we also experienced earnings and FFO (Funds from Operations) dilution as we sold assets at higher initial yields than that realized on our new acquisitions. Though this activity was net asset value (NAV) accretive, it was also FFO dilutive; but necessary as we moved capital into the markets we believe will create the most long-term value. With our portfolio transformation complete, our annual earnings growth should return to the cycle we enjoyed previously when FFO consistently grew several points higher than our mid-single-digit same store net operating income (NOI) growth. Our dividend, now pegged to grow in line with our Normalized FFO, should combine with our earnings growth to consistently deliver high single- and to low double-digit annual returns to our shareholders over the long-term. As we have shared with you over the years, we have focused our investment activity on our core markets of Boston, New York, Washington, D.C., Southern California, San Francisco and Seattle because they are the gateway cities where our country's knowledge-based economy will continue to grow and create high-paying jobs. These markets feature incredibly attractive lifestyles for our residents as well as the nation's highest average incomes and rents. They also feature a very favorable renter profile and a high cost of home ownership.

… [read the Annual Report for a lot of interesting comment on demographics and the trend toward the abandonment of "suburbia" for more urban environments]

At Equity Residential, we augment our acquisition activity with our development capability to build new assets in our core markets. Unlike many developers who build assets to sell soon after stabilization for a quick profit, we seek to build assets that will enhance our portfolio, consistently create value and deliver strong earnings growth for many years. We currently have more than 4,000 apartment units under construction at a total cost of approximately $1.7 billion in fantastic locations in New York, San Francisco, Seattle and Southern California. We also own vacant land sites in our core markets for future development projects which have potential for more than 4,300 additional apartment units at a cost of $1.9 billion.

To make it easy, I highlighted the interesting parts. Now do you understand where rental apartments come from? [Not a stork.] Now do you understand that there are billions and billions of dollars ready to put your Traditional City ideas into action, if the owners of those billions can make a bigger profit from it than if they follow the patterns common in U.S. development over the past several decades, which we have proven over and over to be guaranteed failures?
August 22, 2010: How to Make a Pile of Dough with the Traditional City
True, Equity Residential is the biggest of elephants in this industry. But, smaller residential development businesses operate much the same way, just with fewer zeros. Also, condo developers, which develop units for sale rather than rental, have basically the same concerns.
Let's look at Equity Residential a little more.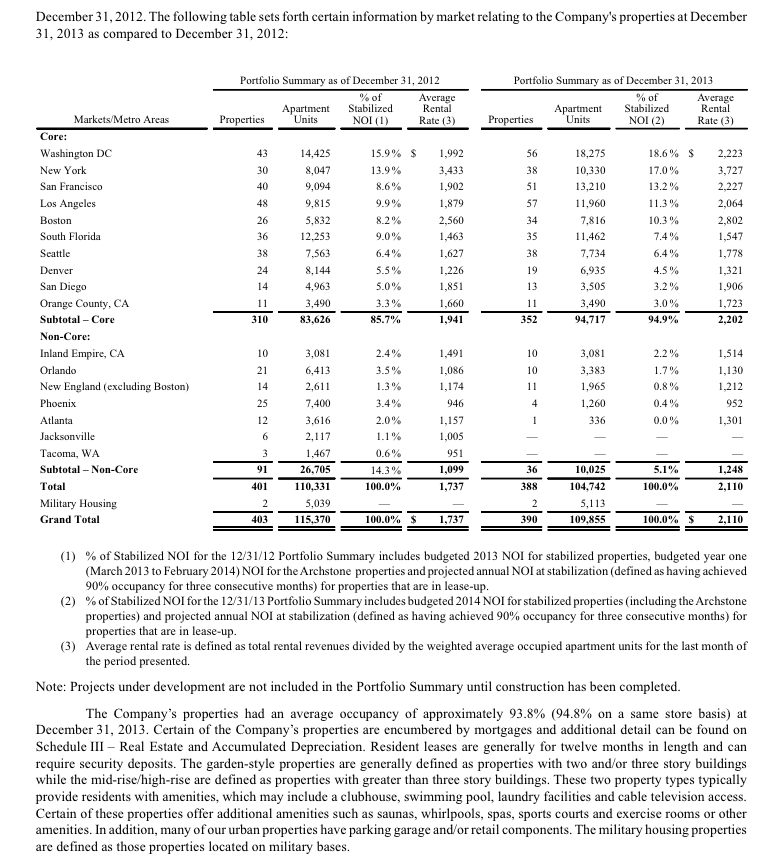 These are just the properties it owns.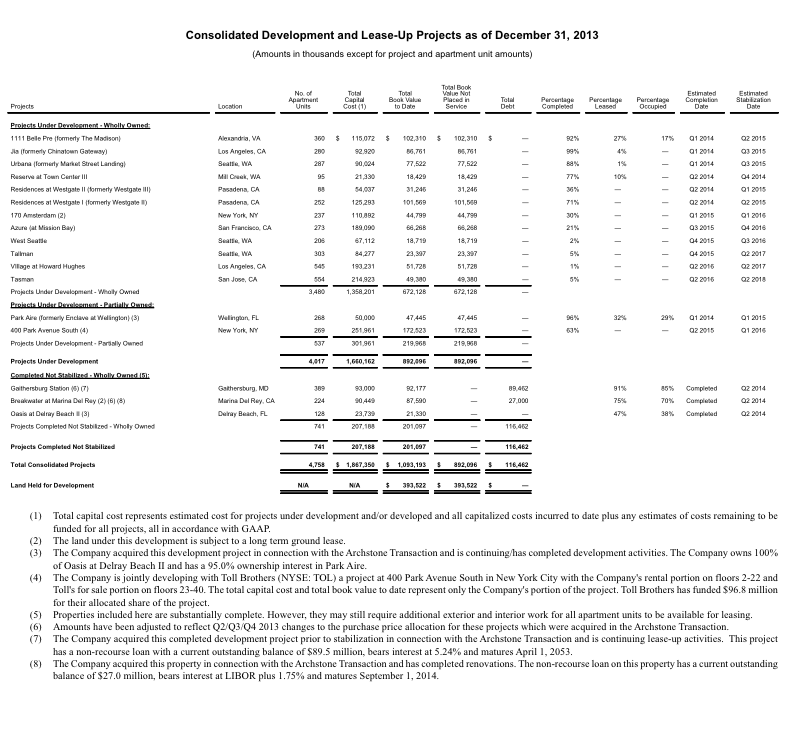 These are the properties under development.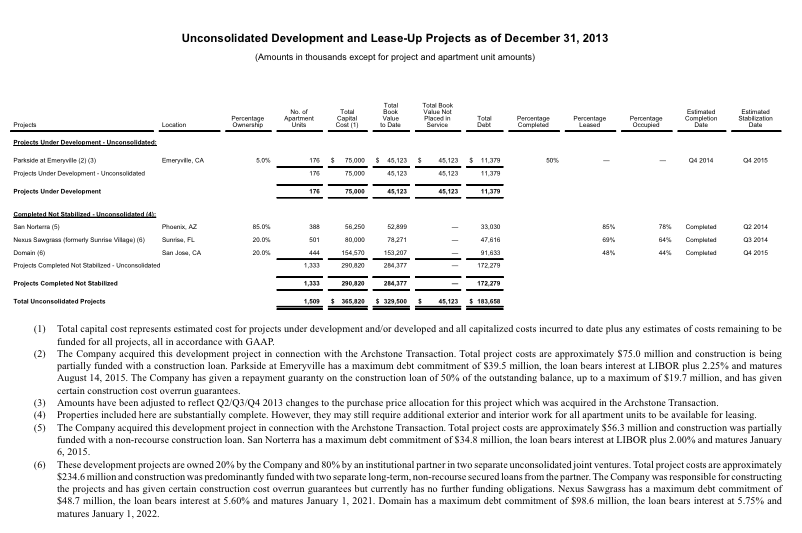 More properties under development, where Equity Residential is not the primary equity participant.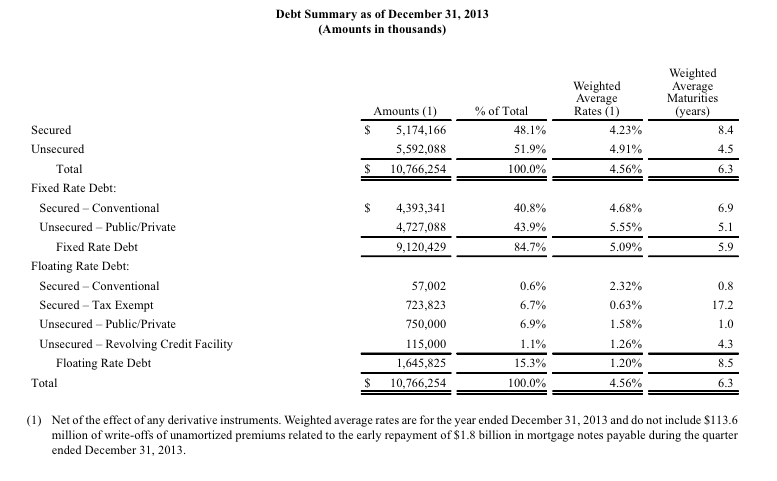 The debt schedule. It gives an idea of how this thing is financed, i.e. where the money comes from.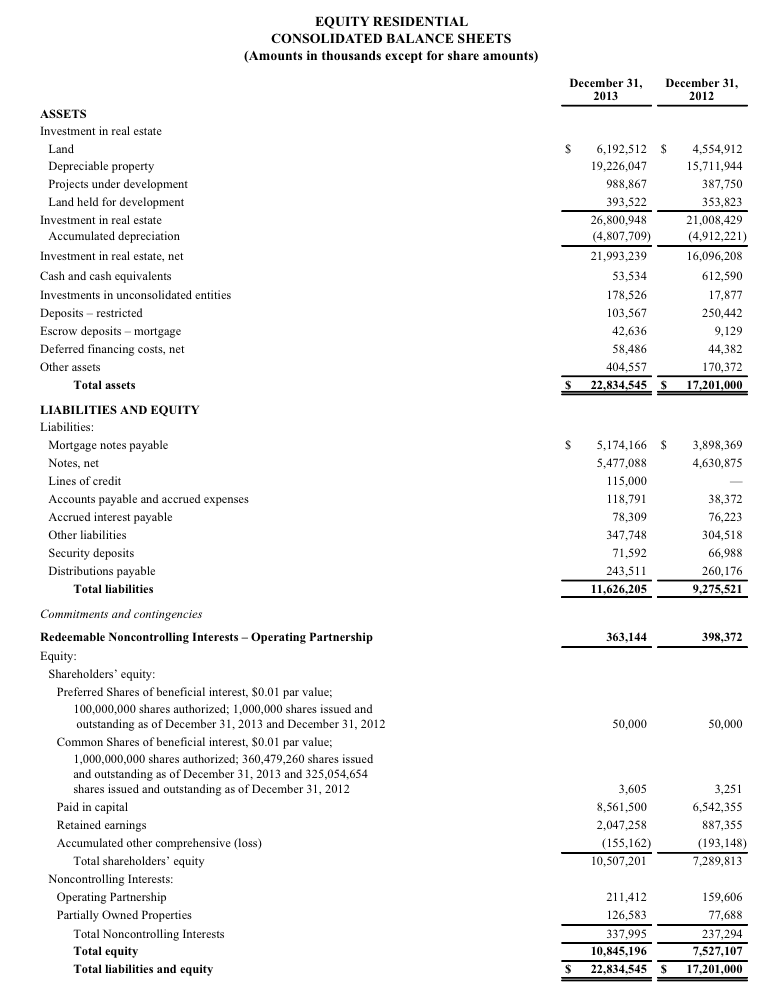 The balance sheet.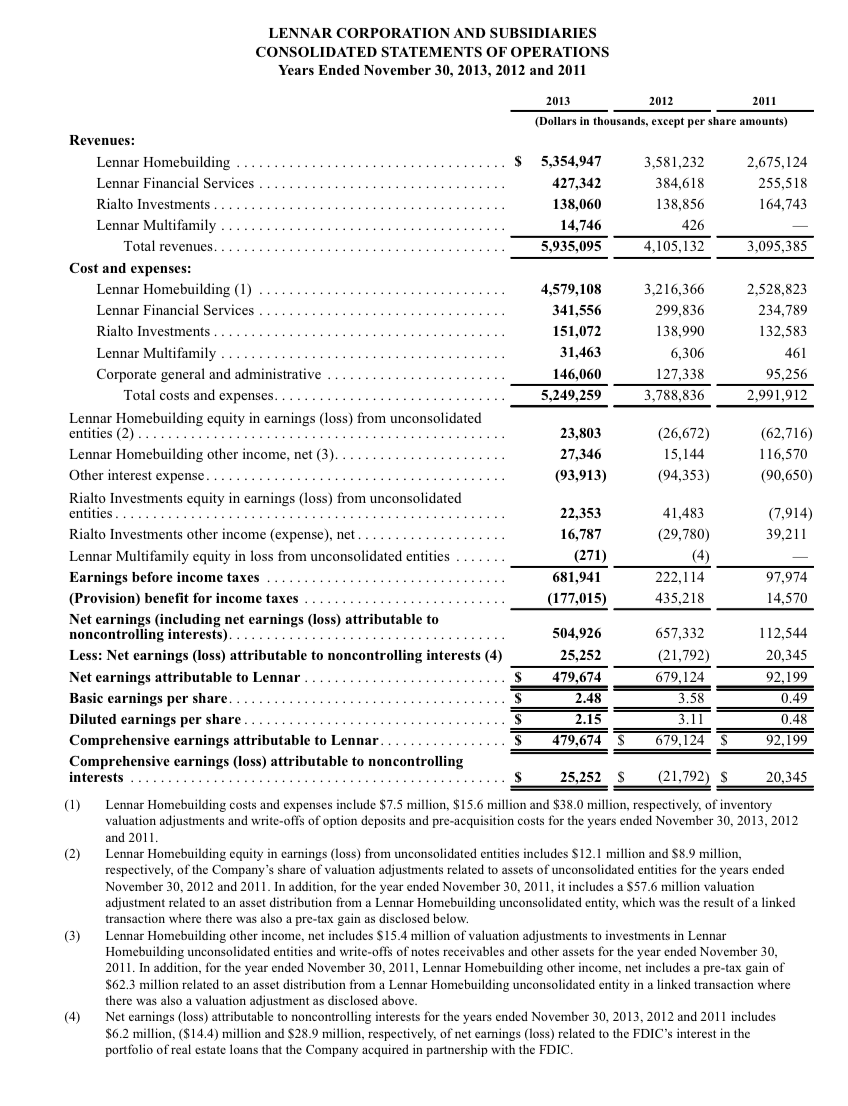 FFO is typically a better measure of property-holding companies' (REIT) financial performance than GAAP accounting.
Now, let's look at a homebuilder. This is a company that makes homes for sale. They could be single-family detached residential units, or multifamily condo units. I've chosen Lennar.
http://finance.yahoo.com/q/ks?s=LEN+Key+Statistics
The market cap is $9.35 billion, and the enterprise value is $14.39 billion.
http://www.lennar.com/investor/investor
Their 2013 Annual Report is here.
http://phx.corporate-ir.net/phoenix.zhtml?c=65842&p=irol-reportsannual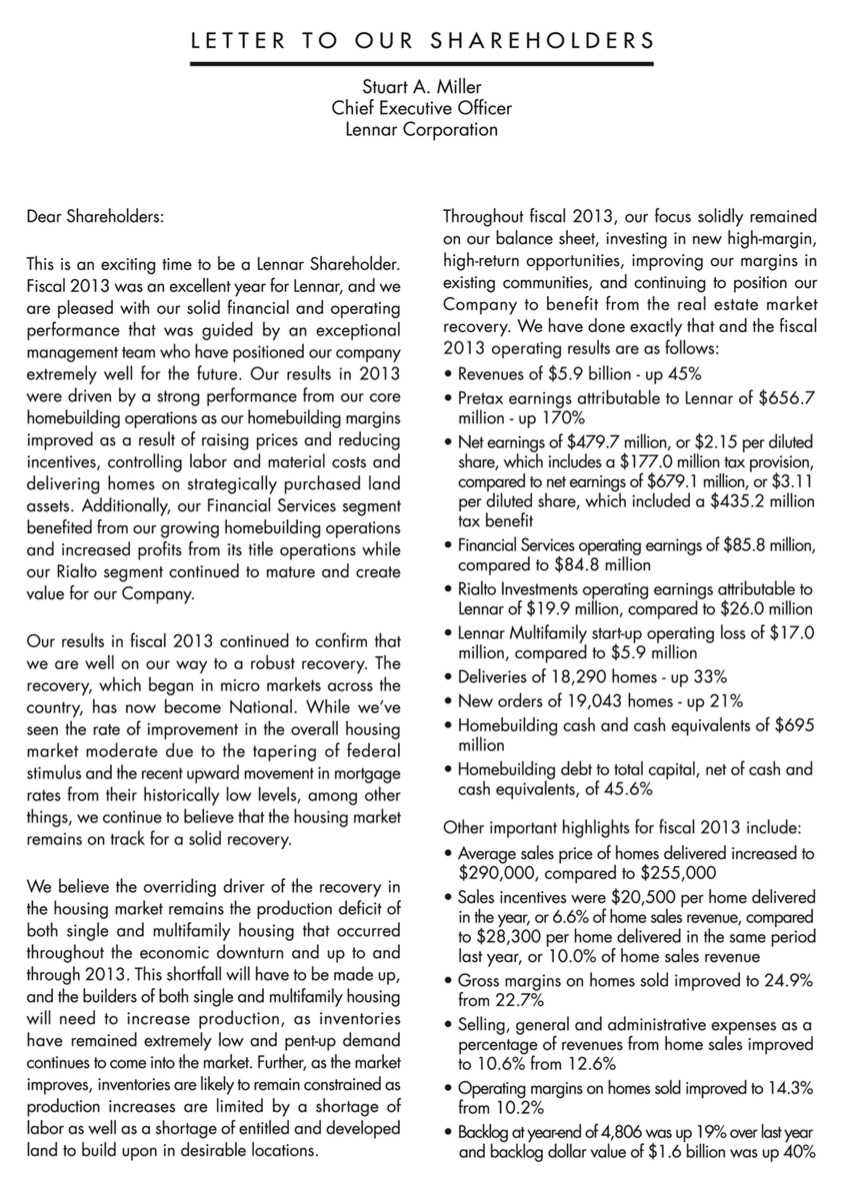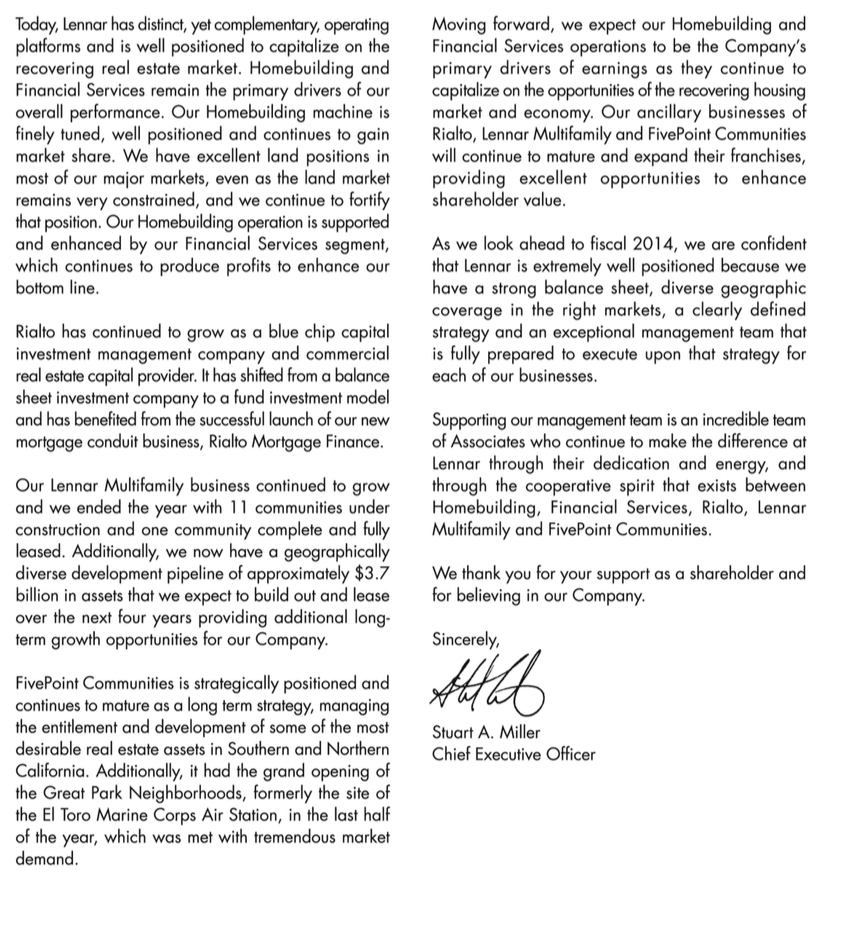 Did you get that?
In 2013, they built 18,290 homes, for total revenues of $5.9 billion.
They built $5.9 billion of houses! Just one company.
Plus, there's a Lennar Multifamily (condo) segment with eleven communities under construction.
Eleven whole multifamily neighborhoods … which could be done in a Traditional City design … creating even more profit for Lennar and a better place to live for thousands of people.
Are you beginning to understand?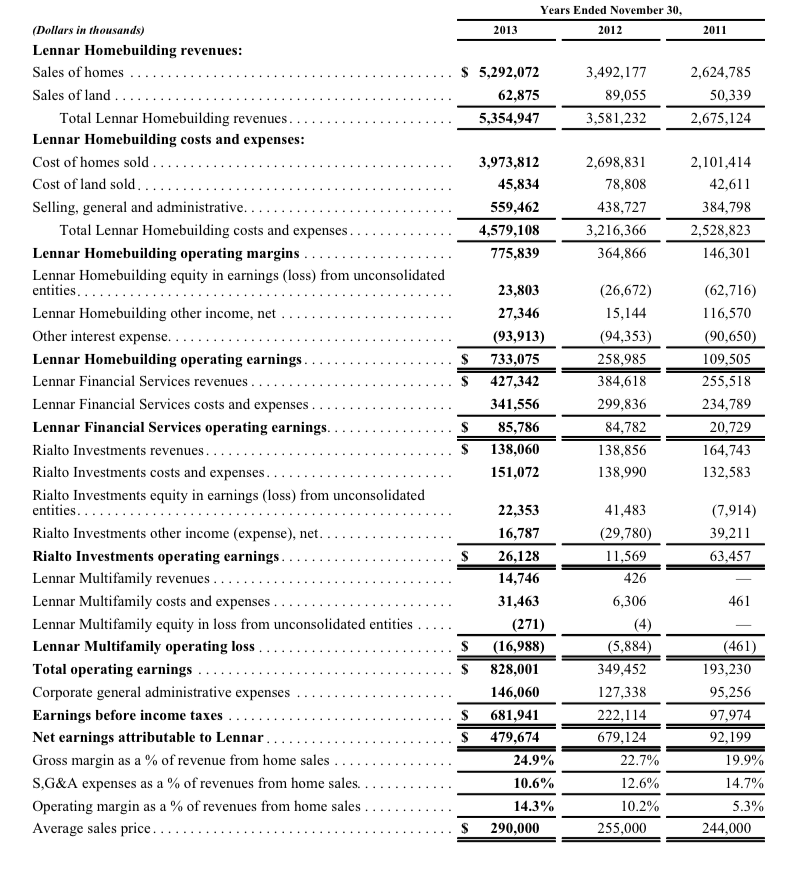 A brief overview.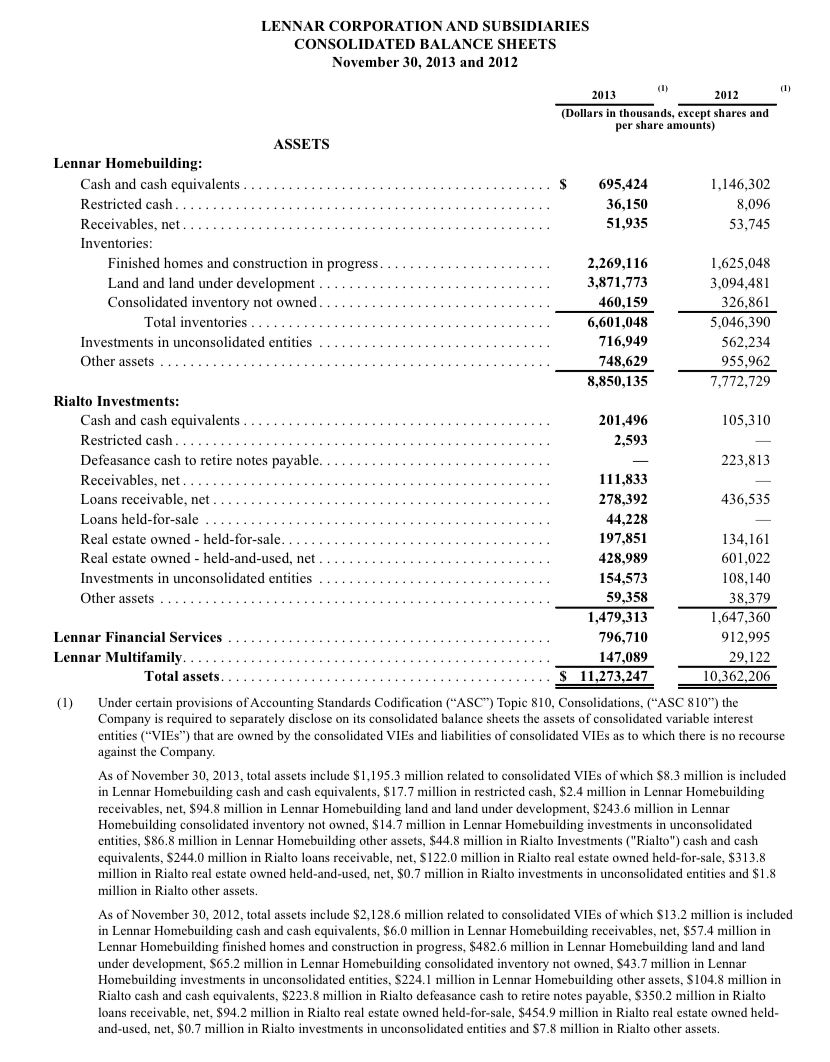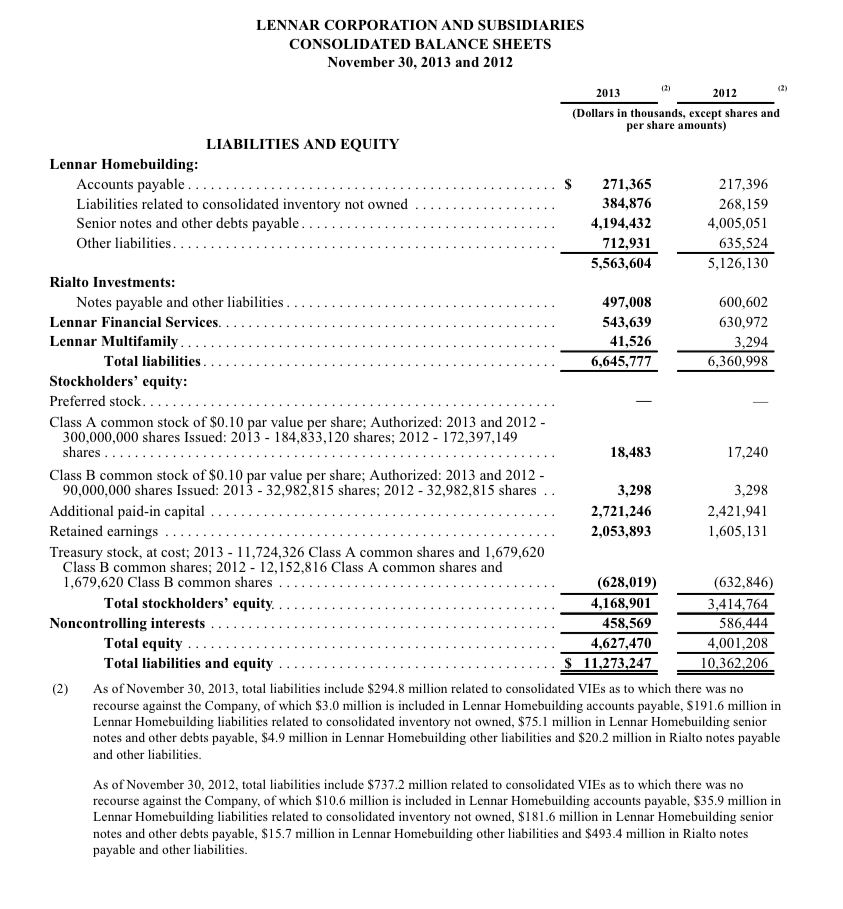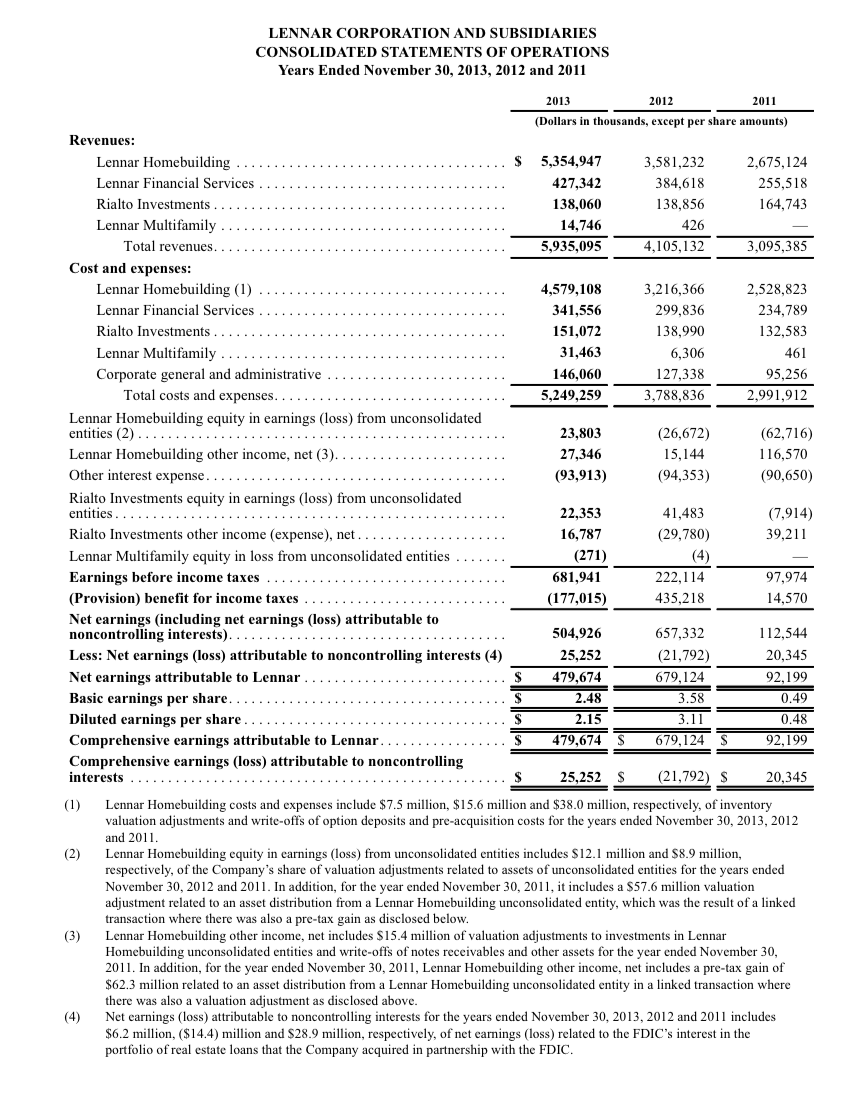 So, now you have a general idea of the way homes are made in the United States. There are also companies that specialize in shopping centers, like Simon Property Group; hotels and resorts, like Hilton or Las Vegas Sands; and office buildings, such as Boston Properties.
There's a small-scale version of these things too. You could probably set up a rural mobile home or RV park for as little as $200,000 or so, and it could be a real Traditional City neighborhood.
September 7, 2014: HTMAPODWTTC 14: Mobile Homes and Manufactured Housing
May 18, 2014: HTMAPODWTTC 12: Trailer Parks and Mobile Home Parks
Now, these homebuilders have to deal with two other main groups of people of interest to us: municipal planning types, and the architects and designers that create the actual construction plans.
Thus, we have three basic professional groups. Here is how you become one:
Municipal planning: probably a Master's program in this field. Many municipal planning types are already quite friendly to alternatives to Suburban Hell in the United States.

If you are a municipal planner with an interest in creating Traditional City-type environments, you need to find a developer who is also interested in making it happen. So, you need to know how a developer thinks.

Architects: architecture school, basically. "Architecture" doesn't mean just building design, but also the people who lay out streets and so forth for larger developments, sometimes known as "planners."

If you are an architect with an interest in making Traditional City-type environments, you need to find a developer who is going to hire you and spend the big bucks to make it happen. You need to know how a developer thinks.

Property development: this is a business track, thus an MBA and experience in the industry is the natural way forward.

The developer is the driving force, because they are the ones with the vision and the money. If you want to Make a Pile of Dough with the Traditional City, and you are something like a college student with no real idea of how business gets done in this world, you need to learn about the business of property development.
Plus, we also need quite a few more bloggers and other intellectual types. This is not really a career, but we still need another dozen or so good and active people here. Something like a university professor would be a career path.
I think that, wherever you feel you might fit, as a municipal planner, an architect or designer, someone in the property development business, or as a blogger or intellectual, you should become very familiar with the property development business as it exists today.
So, here is your assignment:
Read the entire Equity Residential annual report, from front to back. Read every word. Do not skip.
Read the entire Lennar annual report, from front to back. Read every word. Do not skip.
You only have to do this once. After reading every word this one time, you don't have to read every word in other annual reports you may read. You can skip. Or, you might find (as many of the world's best investors have) that it is still worthwhile to read everything.
Then, go do something.
Click Here for the Traditional City/Heroic Materialism Archive