How To Make a Pile of Dough With the Traditional City 10: Let's Bulldoze a Big Box Shopping Center 2: No, Seriously
November 11, 2012
A few months ago, I suggested that one good way to start our transition from Suburban Hell to something much nicer would be to, perhaps, bulldoze a big box shopping center, and build something there that was a little more like Paris or Venice, or Tokyo.
April 1, 2012: How To Make a Pile of Dough With the Traditional City 7: Let's Bulldoze a Big Box Shopping Center

We don't really need so many shopping centers anyway.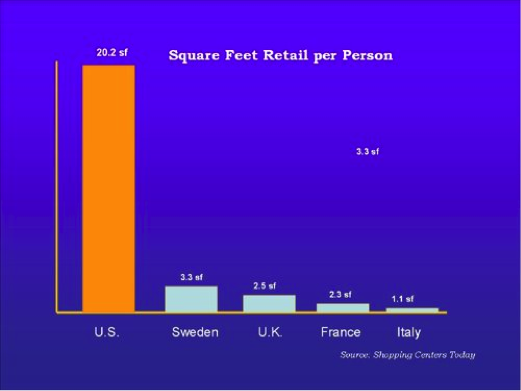 So, let's do it.
First: where is the big box shopping center we plan to bulldoze?
It needs to be in a place that would have a market for a dense Traditional City-type environment. This probably means some urban core area, or a place near an amenity like a beach or train station. We will be adding a lot of commercial and residential square footage here, so there needs to be a market for that. You need to be able to sell it for much more than the construction cost, to create the profit that justifies the large investment. I suggest a shopping center near the beach in San Diego. This is not because I like the San Diego climate, and the beach, and girls in bikinis. No, it is because everybody else likes those things too, so there would be interest in purchasing or leasing property in such a place, at a price premium.
I took the example of a shopping center in Binghamton, New York. Binghamton is probably not a good place to do this, because nobody needs another nine million square feet of floorspace in Binghamton. However, since all shopping centers are basically the same, we can use that example. At a density of 100,000 people per square mile, reached in some Paris neighborhoods, 15,000 people or a third of the entire population of Binghamton could live here. However, those 15,000 people already have houses, so we don't need to build any more in Binghamton. In a place like Darien, Connecticut, however (an upscale New York City suburb), lots of people might like to live in a place like this (good schools), and pay a premium for it, especially if it was within walking distance of the train station.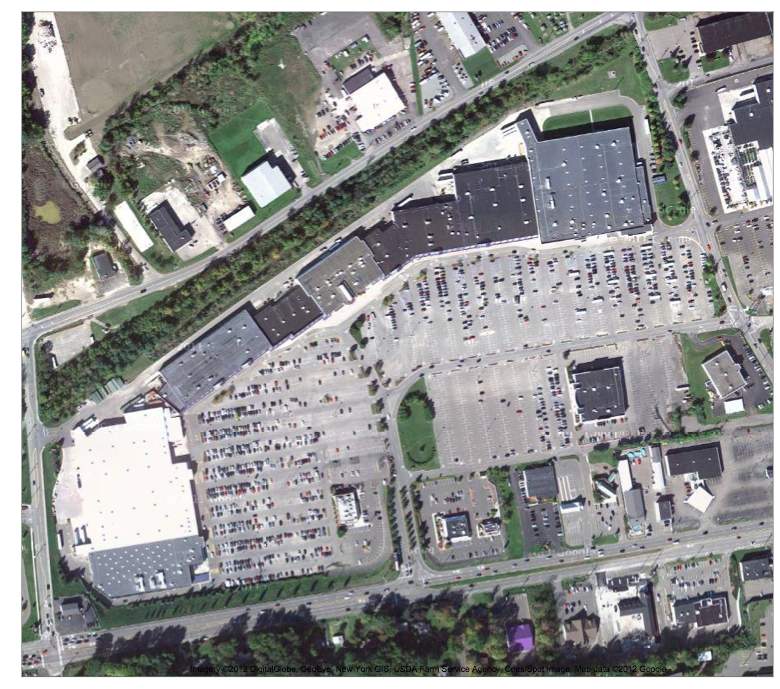 Bulldozing this thing is pretty easy, because its mostly just parking lots anyway,  and the buildings themselves are rather insubstantial.
This photo is about 800 meters across, and the land plot is about 93 acres. That is quite large, actually.
Here are some of our design goals:
1) We are assuming that we have to interface with Suburban Hell as it exists, so that means lots of parking needs to be provided, and a way for automobiles to get in and out easily. Parking will be in enclosed, multistory parking garages, mostly integrated into multi-use buildings.
2) Our land use plan is something like this:
60% building footprint
30% parks, courtyards, yards, gardens, and other public and private open space, which consist of Places, not "green space".
10% roadways, broken down into:

About 20% of streets are Arterial Streets, with two to four lanes of dedicated automobile roadway in the middle, probably some trees or grass as a buffer, and sidewalks on either side. No on-street parking.

The remaining 80% of streets (by length) are Really Narrow pedestrian-centric streets, of 10-30 feet wide, no segregated automobile roadway, no sidewalks, and no green buffers.
3) Building height is generally 3-6 stories, a typical Traditional City height.
4) Some buildings can be taller, particularly those which are adjacent to Arterial Streets. This would be more of a Manhattan-style Hypertrophic approach. Big buildings and big streets go together easily. So, you can add your 35-story highrise apartments and offices here too, if you want.
September 23, 2012: Corbusier Nouveau 3: Really Narrow Streets With High-Rises
August 26, 2012: Corbusier Nouveau 2: More Place and Less Non-Place
August 19, 2012: Corbusier Nouveau

5) The treatment of the perimeter is an interesting design point. How should our neighborhood interface with the rest of Suburban Hell? Put a wall around it? (Lots of walled cities are very nice.) Put a green buffer around it? It might be nice for it to be separated from the rest of Suburban Hell, like its own little island of Traditional City fabulousness. Shall we put a row of buildings along the existing very large automobile roadways? I opt here for a combination of some park space along some streets (isolation), and some buildings along other streets. One nice thing about park space is that you can decide to build on it later if you want. Ideally, although being long and skinny and serving as a buffer, this will be usable and enjoyable as a park, not just a wall of shrubbery.

October 10, 2009: Place and Non-Place

6) Block size is roughly 100-200 feet along the short side and 200-500 feet along the long side.
So, here we go: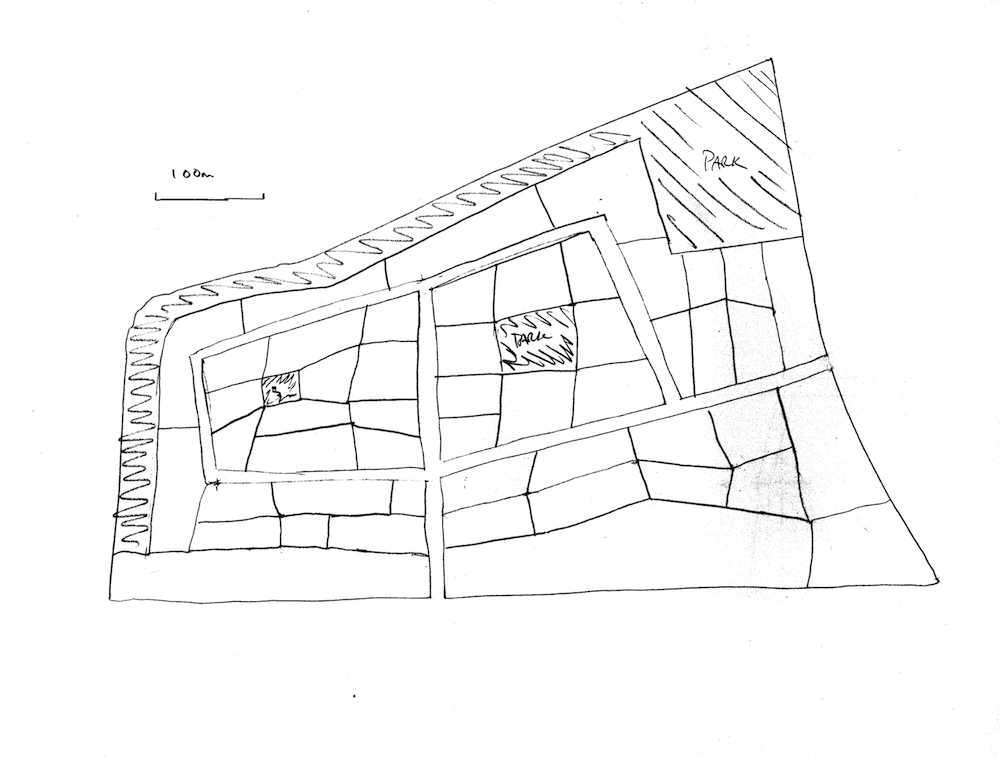 The darkened areas are parks. The small darkened area on the left is a paved town square. You could add some smaller squares and parks here and there as well. The wide, double-lined streets are Arterial Streets. The single black lines are Really Narrow Streets.
Although most of the streets here are Really Narrow pedestrian streets, almost all of the blocks have at least one side adjacent to an Arterial Street. An entrance to enclosed parking can be put on the side facing the Arterial Street, so that cars can enter and exit without having to drive on the Really Narrow Streets. Vehicles will be allowed on the Really Narrow Streets, but, seeing as they would have to share the road with people walking, and also there's no place to park there, the main reason that motorized vehicles would be on the smaller streets is for deliveries and dropoffs.
This site has about four million square feet. At 60% building footprint, and an average height of four stories, that would mean about 9.6 million square feet of space here. That is a lot, although some of it would be used for parking. The typical parking treatment would be something like this: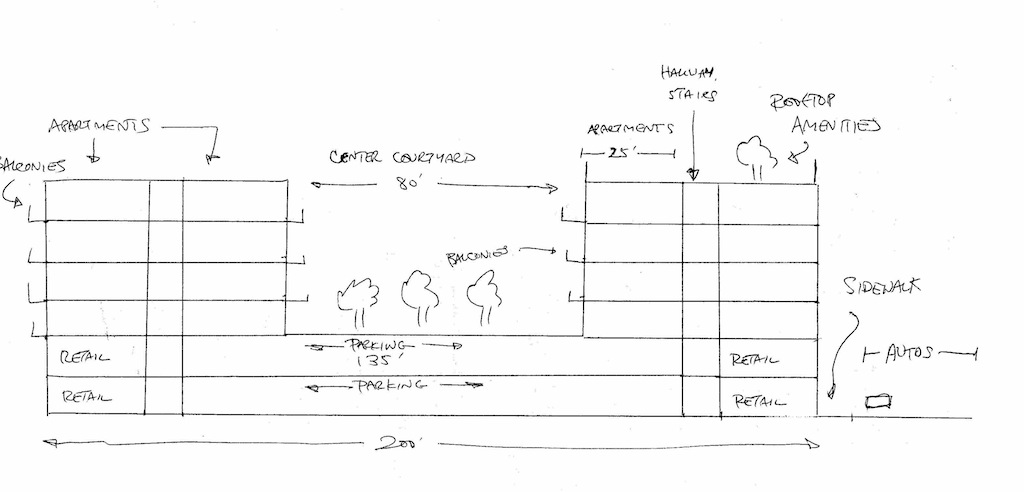 This is an example for a residential apartment building, but it could also be an office or retail/commercial type building. The parking is integrated inside the building, so we can avoid any outdoor parking lots or ugly "giant concrete box" parking structures.
April 22, 2012: How to Make a Pile of Dough With the Traditional City 8: Shared Parking
The buildings along the perimeter will be in the Manhattan or 19th Century Hypertrophic style, which is to say, up against the sidewalk with no "green space" buffer in front.
You can add more square feet by building a little higher and adding some highrises here and there. Alternately, you could make some of the streets into single-family detached residential streets, like this:
July 31, 2011: How To Make a Pile of Dough With the Traditional City 5: The New New Suburbanism
Townhouses would also be fine, at roughly double the density of SFDR housing.
July 1, 2012: How To Make a Pile of Dough With the Traditional City 9: Townhouses With Parking

For comparison and inspiration, here are some aerial photos of dense Traditional Cities. The width of the photos is about the same as our plot size here.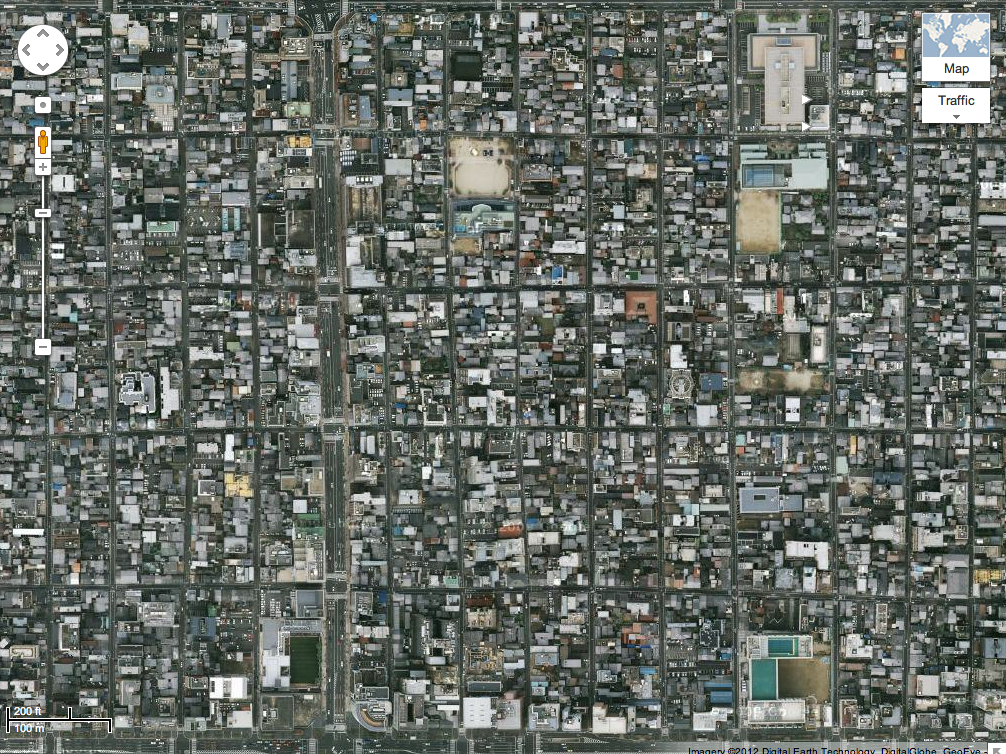 Kyoto, Japan. The photo is about 950 meters across.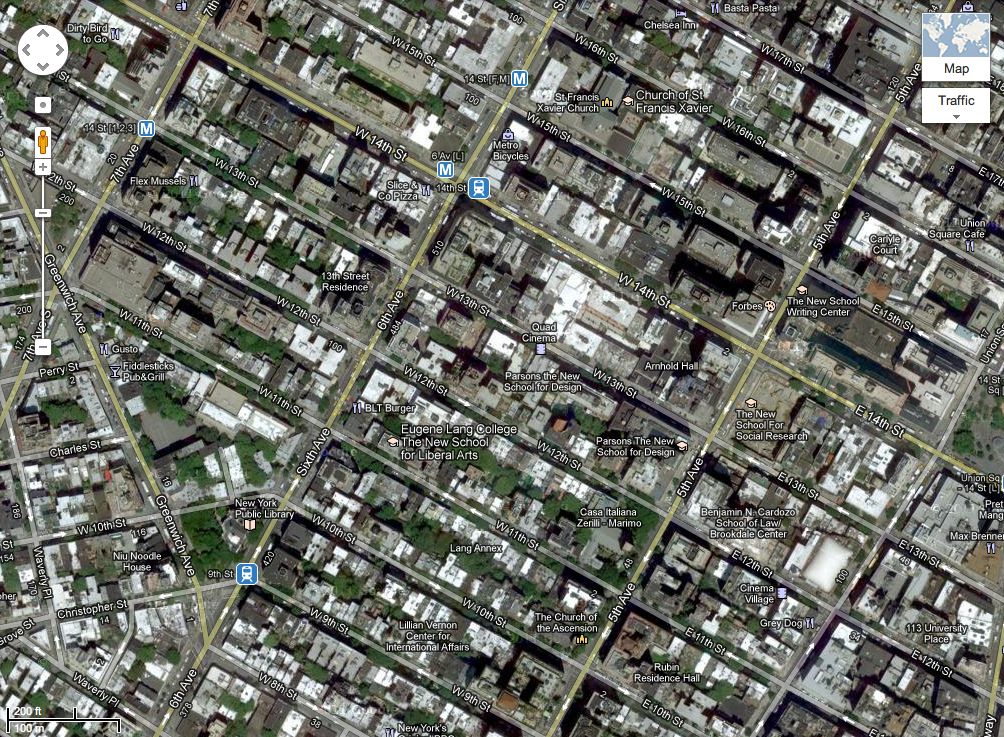 Manhattan. The photo is about 930 meters across.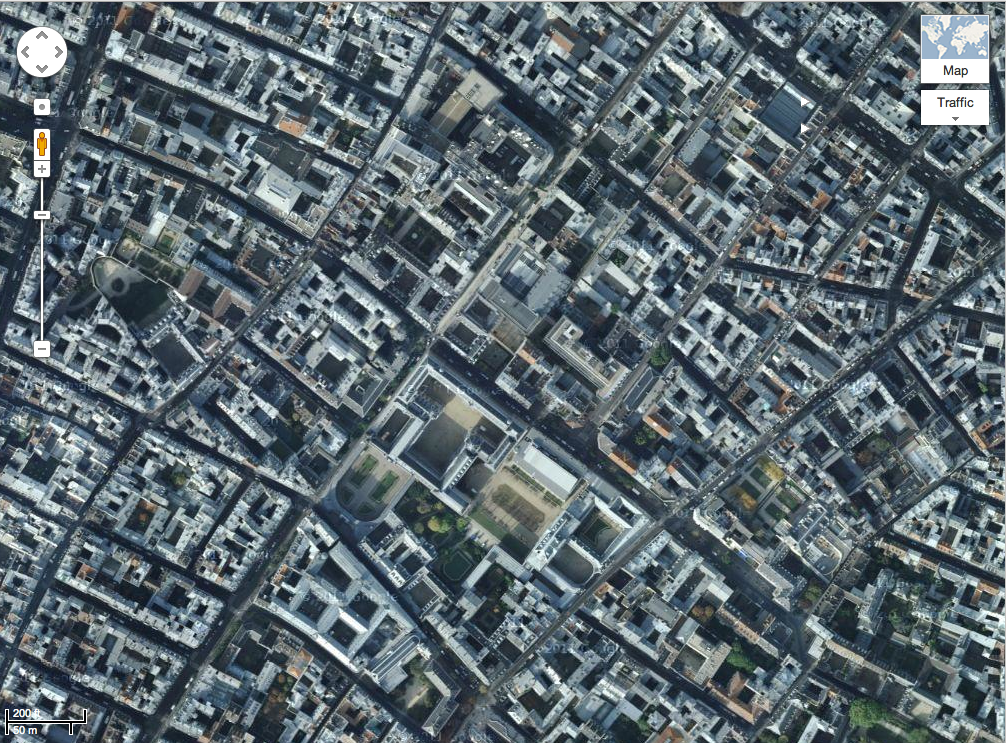 Paris. The photo is about 750 meters across.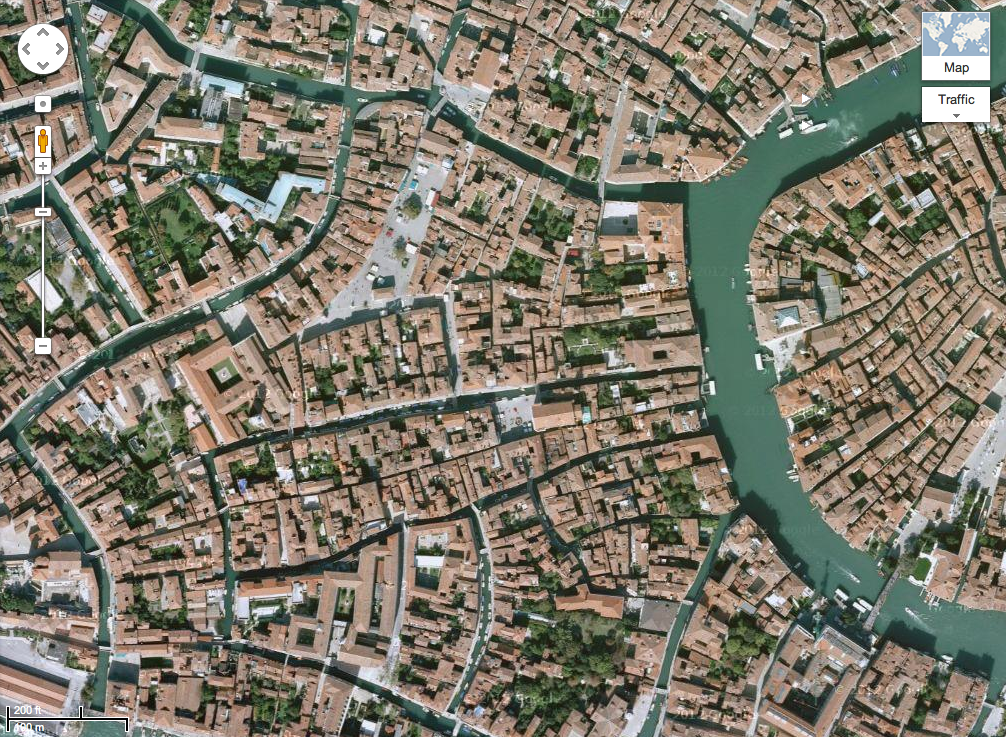 Venice. The photo is about 950 meters across.
Look at the street patters, the size of the blocks, the locations of parks and so forth.
Basically, we want to create a place with the character (and design elements) of these famously successful Traditional City environments, while also including adequate parking for all involved. (Manhattan isn't a Traditional City, but rather a 19th Century Hypertrophic city. Nevertheless, because we are including the possibility of Manhattan-style highrises here, along the wider Arterial Streets, our design also includes a bit of Manhattan flavor.)
Here is what the streets in our design are supposed to look like: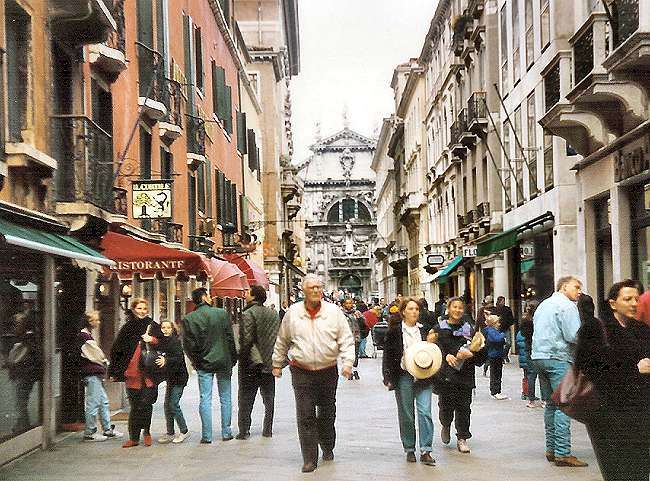 A typical street in Venice. The width is about thirty feet. This is a Really Narrow pedestrian street, with no automobile roadway, and no sidewalks. The "black line" streets on our design would look something like this. Building height is 3-6 stories.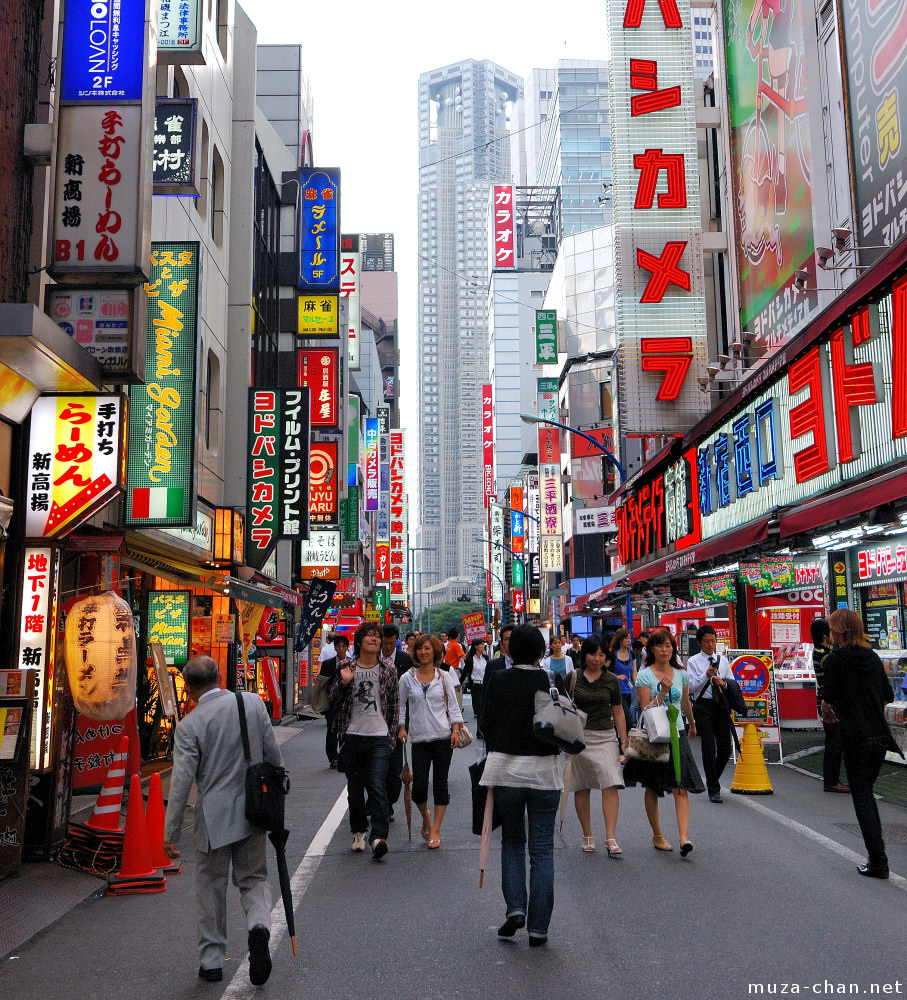 A contemporary commercial street in Tokyo. The width is about 18 feet. No sidewalks and NO CARS.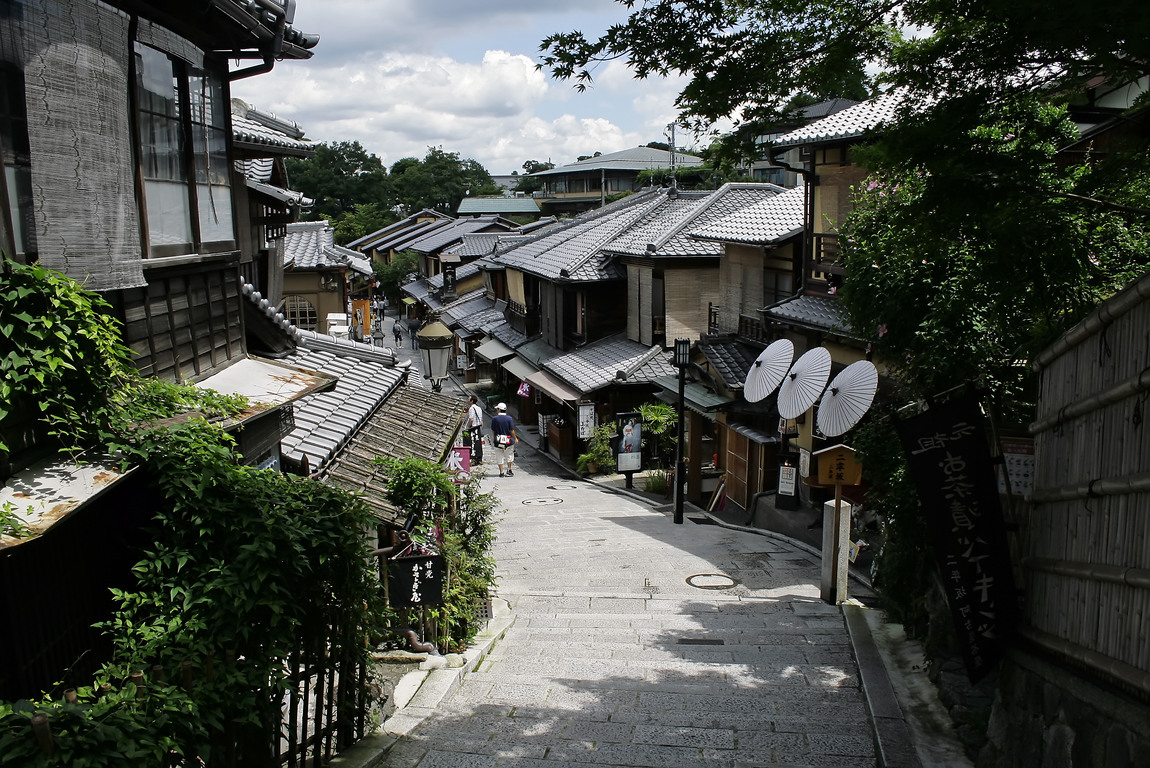 This is a quieter, more residential street in Kyoto, with townhouses and small shops. The width is about ten feet.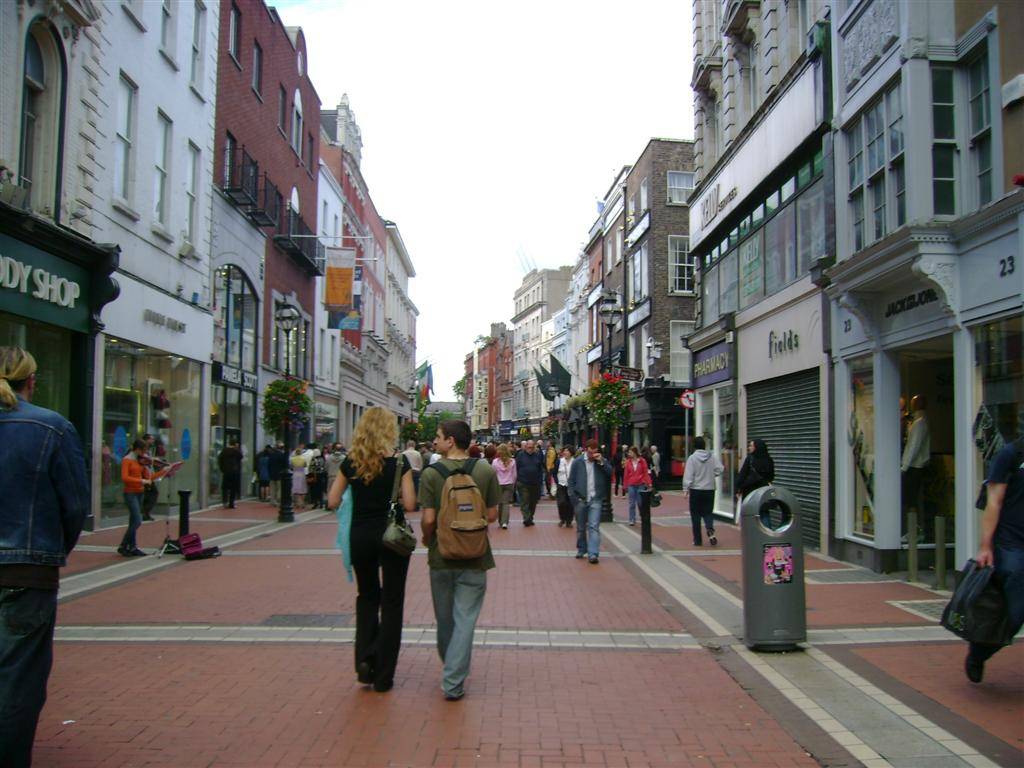 A street in Dublin, Ireland. Another Really Narrow pedestrian street, although a bit wider here at perhaps thirty feet.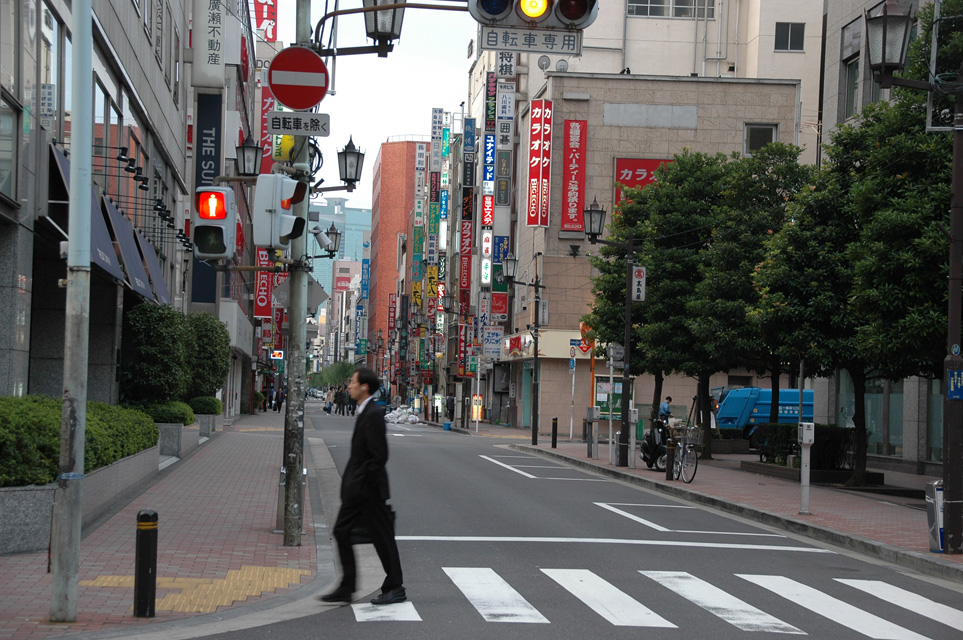 This is more of an Arterial Street, with a segregated automobile roadway of roughly two lanes in the middle, and sidewalks.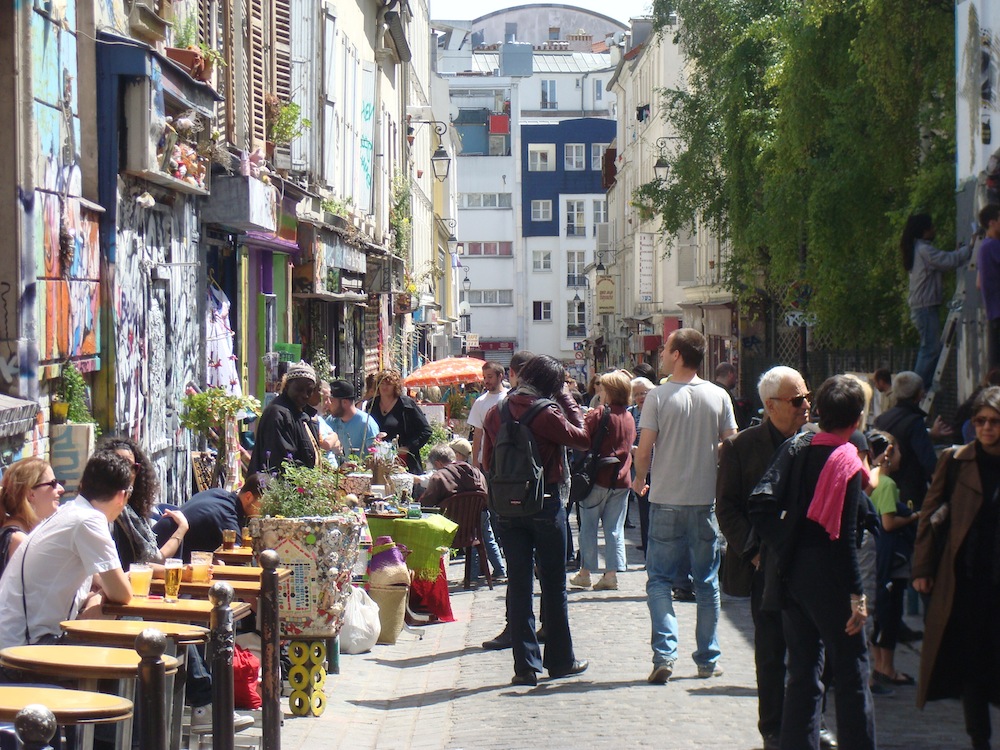 A cozy Really Narrow pedestrian street in Paris. Do you see why our design goal is 80% Really Narrow pedestrian streets? They are so much fun.
Width is about 20 feet, building height is about four stories.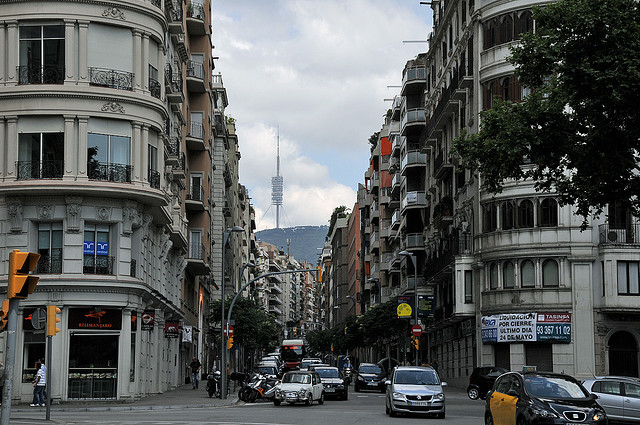 This street in Barcelona is more of an Arterial Street, with two or three lanes of traffic on a segregated automobile roadway. Ideally, we would have no onstreet parking. Sidewalks on either side, and some trees. Building height is about six stories.
Try to imagine it all in your head. What would this 93-acre place look like when we are done with it? It should be as much fun as living in Barcelona or Tokyo.
Way better than a big box shopping center.
Click Here for the Traditional City/Heroic Materialism Archive