Sometimes people ask me how we — Americans in particular, who have dug their Suburban Hell hole the deepest — can transition to a Traditional City/trains format.
June 6, 2010: Transitioning to the Traditional City 2: Pooh-poohing the Naysayers
May 23, 2010: Transitioning to the Traditional City
The first step, as I noted earlier, is that you have to have some idea of what you want to create. Obviously, you can't create it if you can't imagine it. In fact, there are actually quite a few people, both "New Urbanist" types and even some more commercially-minded property developers, who want to create something like the Traditional City, but since they haven't been able to imagine it properly, their results have basically been a failure.
So, the first step is to be physically, mentally, and creatively capable of making something that is worthwhile — nay, that is a shining example to future generations of the excellence of our civilization. If you had unlimited funds and resources, could you make something good? But then, somewhere along the line, someone is going to have to make a profit with the Traditional City. Once this happens, consistently, then the transition will be well underway.
All sorts of amazing things can happen when people start to turn a profit. Look at wind turbine development, for example. While making electricity from the wind might be a good idea on a lot of levels (although with some problems like any real-world activity), the reason that there have been hundreds of billions of dollars invested in wind turbine development in recent years, worldwide, is because it provides an adequate return on capital. This was a tree-hugging fantasy a decade ago. It might take some government subsidies to make it profitable, but so what. (Many will argue that this simply mirrors the hidden subsidy of fossil fuels, thus "leveling the playing field" somewhat.) The fact that wind turbines are considered "cool" today helps, but you still need to make that hurdle IRR.
Just imagine if hundreds of billions of dollars a year were invested, today, in Traditional City development. We would just stop making so many suburbs and start making some Traditional City neighborhoods instead. It's the same amount of work. There is no "extra" spending or effort. In 2000, for example, the GDP statistics show that $449 billion dollars were invested in residential strucutres, in the U.S. alone (not to mention the rest of the world!). Another $318 billion was invested in nonresidential (commercial) structures, such as office buildings, retail, hotels, warehouses, factories and the like. I pick 2000 as a year that was not really a bubble (in property), and not really a recession either. This was 4.5% of GDP for residential structures alone, and 7.7% when you include commercial structures. In 2009, 7.7% of GDP would translate into $1,087 billion.
Let me say that again: on average, smoothing out the boom/bust cycles, we are spending about a trillion dollars a year on structures. Right now. Today. Not including land costs, just construction. Not to mention government spending on Suburban Hell infrastructure, like roadways, paid for with your tax dollars. So, if half of that spending represented Traditional City type development, and the remainder Suburban Hell development as is already going on, then that would be $544 billion a year of spending on Traditional City development, just construction costs alone without land costs, and more if you include Traditional City government spending, and more still if you consider transportation-related spending in the Traditional City/train format.
One estimate showed that, in 2001, there was $130 billion in total spending on U.S. highways and roads, plus another $849 billion spent on personal automobiles. It works out to 9.5% of GDP, which would be $1,344 billion today. So, there's another $1,344 billion we spend every year, to maintain our Suburban Hell/personal autos system. If we took half of that spending, and used it for Traditional City/trains instead, that would mean another $672 billion every single year devoted to building out the Traditional City/trains pattern.
Combined with spending on structures, it adds up to 7.7%+9.5%=17.2% of GDP that goes directly into building/maintaining Suburban Hell+personal automobiles. If we put half of those resources towards building/maintaining the Traditional City+trains instead, we would have about $1,216 billion every single year of spending on the Traditional City+trains. Just imagine what it would look like if we spent $1,216 billion (or 8.6% of GDP) every year for ten years on the Traditional City+trains. That would be along the lines of:
TWELVE TRILLION BUCKS
… in total, over ten years. Actually more, if GDP grows as one would expect. That is only for the U.S. What if the Traditional City concept catches on elsewhere in the world — as it should, since people in the rest of the world are already living in Traditional Cities built by their ancestors, and enjoying it? On a planetary basis, we could be looking at more like … fifty trillion bucks over ten years.
The point being: if you can make an adequate profit, the amount of resources that can be directed into Traditional City+trains development is quite stunning in its total scope. People say that "we don't have the resources to build the Traditional City." Baloney. We have only a trillion bucks a year, and that is even if we leave 50% for those who prefer the McMansion/Lexus pattern. And if there was some sort of super-disaster where the productivity of the economy declined by ninety percent, we would still have the labor and resource equivalent of a hundred billion bucks a year, in today's money, to build the best Traditional City … that we can imagine.
We've looked at the Traditional City from a number of angles. It just plain looks good. It's fun to live in. It's cheaper, in terms of living expenses. Resource demands are drastically reduced, and it's much better for the environment. It's even easier to build. It's a winner from every angle (there are more angles to come), the only real drawback being: it's hard to get there from here.
March 14, 2010: The Traditional City: Bringing It All Together
Now let's look at a different angle: potential profitability.
The fact of the matter is, U.S. property developers — the people who actually build buildings, and sell/rent them for profit — have already been moving toward Traditional City ideals in recent days, in many situations. Not all situations, of course, but you can see this trend pop up over and over again.
One of the recent trends among developers, for example, is the combination enclosed shopping mall and condo development. You can walk, or take the elevator, right from your condo to the shopping mall.
The mall as we know it today is a mistake…. In its newest incarnation, the mall has finally become not just a place to shop, but to live. The mortgage meltdown, shifting demographics and a growing antipathy toward suburban sprawl have caused developers to see malls not as retail dinosaurs but as giant land banks, where going vertical can appease environmentalists, potential buyers and stockholders alike.

It's happening slowly, but it's happening all over America, and industry experts expect the trend to grow. If inner cities are starting to see condo projects go rental or remain unsold, and some new suburban subdivisions are settling into modern ghost towns as the foreclosure crisis deepens, the one bright spot in the housing market might just be here: at the mall.

"This is not just a fad," says Anita Kramer, senior director for retail development at the Urban Land Institute. "This is the wave of the future."

Roll right out of bed and into the mall
Condos, lofts going up at retail meccas around Valley in housing trend
Erica Sagon
The Arizona Republic
Aug. 9, 2005 12:00 AM

http://www.azcentral.com/arizonarepublic/news/articles/0809retailresidential09.html

Many people in the Valley already feel that shopping centers have become their second homes, but soon they literally will be able to live at the mall.

Hundreds of condominiums and lofts are in the early-planning stages for Valley malls, both existing locations and malls still on the drawing board.

Thirty lofts already exist at Kierland Commons in north Phoenix. A project is in the works at SanTan Village in Gilbert. And housing has been built along with other shopping centers across the country as part of developers' efforts to reinvent the role of the shopping mall.
How about those Baby Boomers and Silents who made every sacrifice for their Suburban McMansion in the 1970s, 1980s, and 1990s? Mowing the grass every Saturday — and paying off that backbreaking mortgage — gets a little old. Been there. Done that. Wasn't really what it was cracked up to be.
Condo living has become ever so popular for retirees in this country. More and more retirees are choosing this type lifestyle so that they can focus their time on traveling, hobbies and spending more time with friends and family.
Of course, the "condo+mall" idea is really a super-crappy version of the Traditional City residential/commercial combo.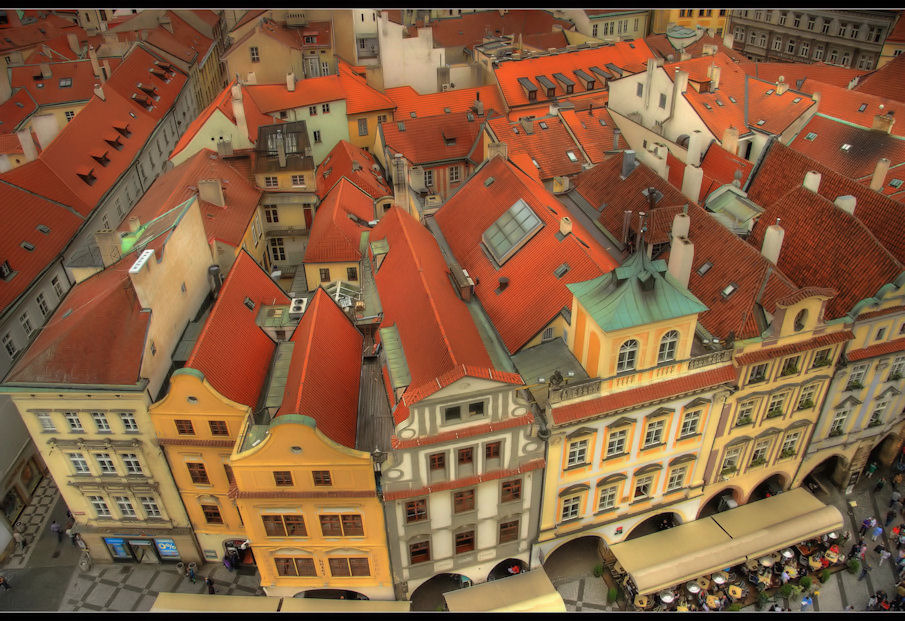 "Condos," Traditional-City style, with retail at street level. Spain.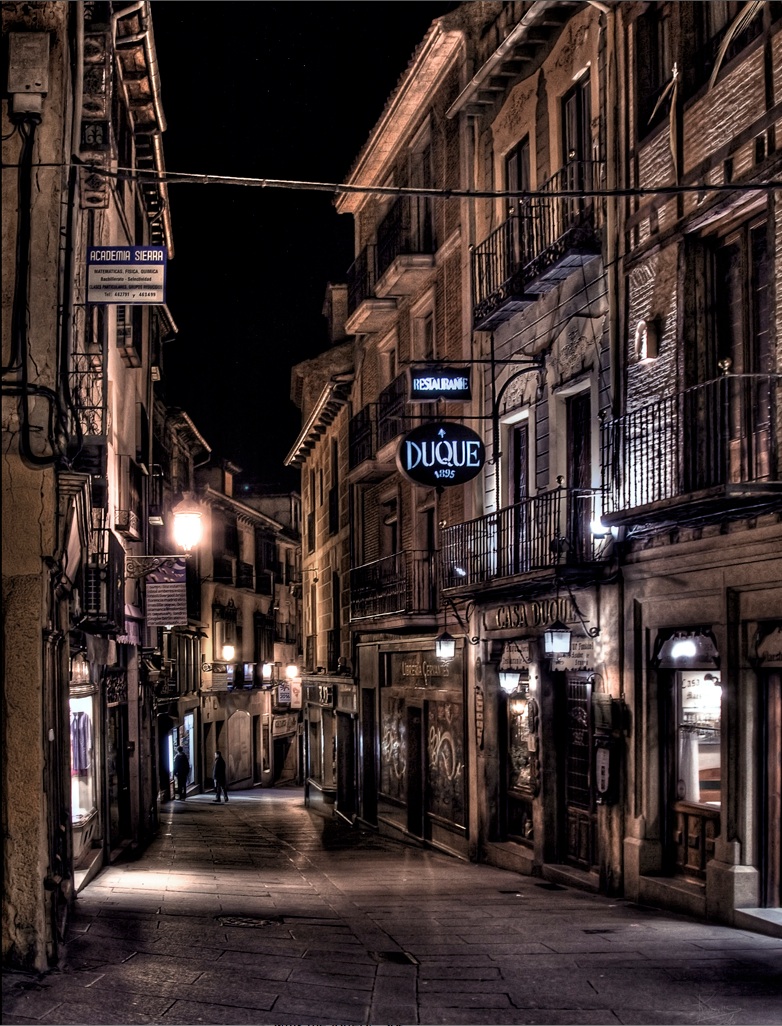 "Condos" and street-level retail. Segovia, Spain.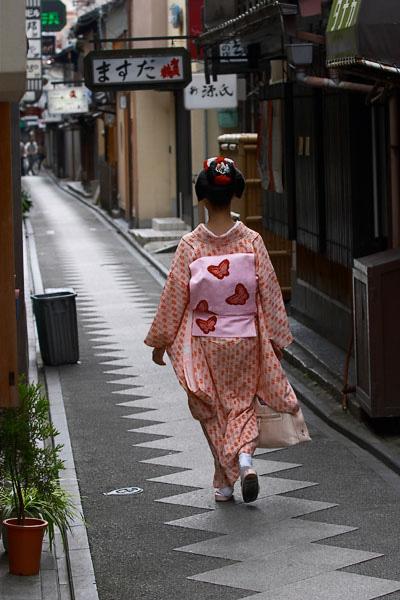 Street with shops, townhouses, apartments. Kyoto.
Ski resorts have been trying to combine their slopes and lifts with "European-styled alpine villages," including in-town condos. Maybe the 3000 square foot log cabin ten miles from town, with a couple Chevy Suburbans to get to the slopes, is falling out of fashion?
Town of Mountain Village

A Modern European Alpine VillagePerched at 9,500 feet, Mountain Village is an intimate alpine enclave with luxury hotels and condominiums, stylish boutiques and innovative dining. Home to the state-of-the-art Telluride Conference Center, and world renowned hotels lumiere and Capella Telluride, this European-styled alpine village provides unsurpassable scenic ambiance with an emphasis on guest service. Ski runs meander through the town, giving many homes, condominiums, and hotels direct ski access to the slopes. All elements combine to create a modern alpine elegance to complement the rustic charm of Telluride.

http://tellurideskiresort.com/TellSki/info/summer/mountain-village.aspx
Unfortunately, most of these attempts don't come anywhere near the fabulosity of a real Traditional City. Anyone going to compare Mountain Village, Telluride, with a real European alpine village?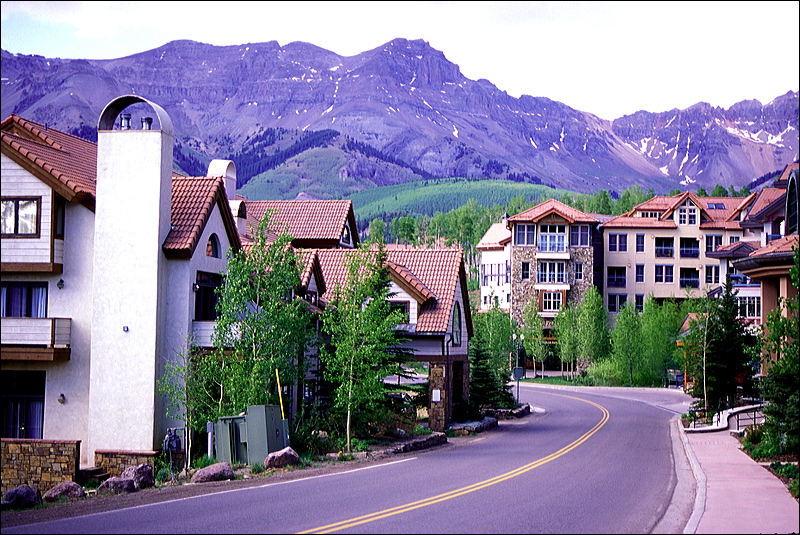 Mountain Village, Telluride Colorado.
Ehhhh. Could be worse, but … not really inspiring. Is this supposed to be some kind of wonderful environment for pedestrians? Some kind of world-famous destination for travellers? How many people do you see in this picture? A big fat zero.
Look how many of the buildings are actually buffered from the street with Green Space.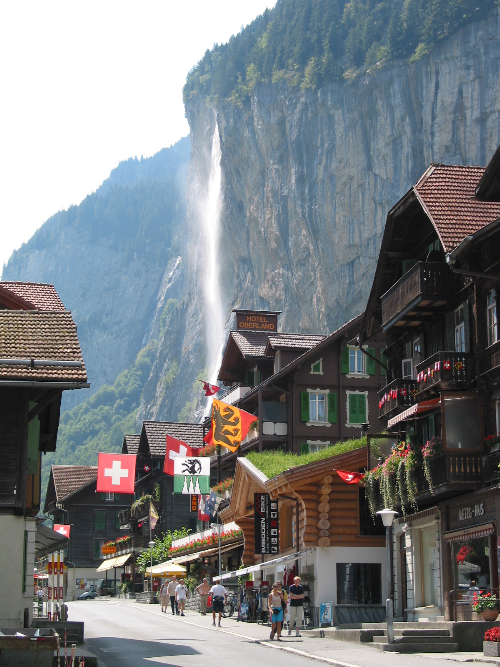 Mountain village, Switzerland. Pretty good, although you know that I would prefer some Really Narrow Streets. This is more like an "arterial" street. Maybe the Really Narrow Streets are off to the side.
No Green Space here. Also, note how we now have some people appearing in the scene.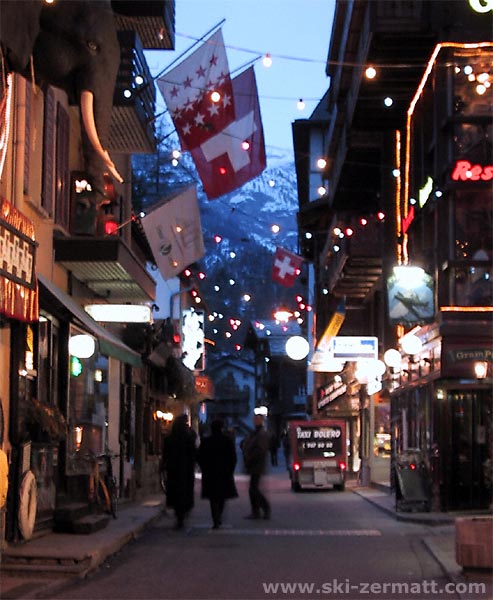 YESSSSS!!!!!!
Zermatt, Switzerland.
This is a proper Really Narrow Street pedestrian environment.
From the standpoint of profitability, which do you think is going to be more profitable?
a) building something that sucks
b) building something that is fabulous, but costs the same price or less than something that sucks.
Look at these photos. If you were going to make a ski resort village, do you think you're going to make a bigger profit with the one on the top or the one on the bottom?
From the place that nobody wants to go to, or the place that everybody wants to go to?
We will continue our discussions on how to make a boatload of money from the Traditional City in the future.

August 1, 2010: The Problem With Bicycles
June 6, 2010: Transitioning to the Traditional City 2: Pooh-poohing the Naysayers
May 23, 2010: Transitioning to the Traditional City
May 16, 2010: The Service Economy
April 18, 2010: How to Live the Good Life in the Traditional City
April 4, 2010: The Problem With Little Teeny Farms 2: How Many Acres Can Sustain a Family?
March 28, 2010: The Problem With Little Teeny Farms
March 14, 2010: The Traditional City: Bringing It All Together
March 7, 2010: Let's Take a Trip to Suburban Hell
February 21, 2010: Toledo, Spain or Toledo, Ohio?
January 31, 2010: Let's Take a Trip to New York 2: The Bad and the Ugly
January 24, 2010: Let's Take a Trip to New York City
January 10, 2010: We Could All Be Wizards
December 27, 2009: What a Real Train System Looks Like
December 13, 2009: Life Without Cars: 2009 Edition
November 22, 2009: What Comes After Heroic Materialism?
November 15, 2009: Let's Kick Around Carfree.com
November 8, 2009: The Future Stinks
October 18, 2009: Let's Take Another Trip to Venice
October 10, 2009: Place and Non-Place
September 28, 2009: Let's Take a Trip to Barcelona
September 20, 2009: The Problem of Scarcity 2: It's All In Your Head
September 13, 2009: The Problem of Scarcity
July 26, 2009: Let's Take a Trip to an American Village 3: How the Suburbs Came to Be
July 19, 2009: Let's Take a Trip to an American Village 2: Downtown
July 12, 2009: Let's Take a Trip to an American Village
May 3, 2009: A Bazillion Windmills
April 19, 2009: Let's Kick Around the "Sustainability" Types
March 3, 2009: Let's Visit Some More Villages
February 15, 2009: Let's Take a Trip to the French Village
February 1, 2009: Let's Take a Trip to the English Village
January 25, 2009: How to Buy Gold on the Comex (scroll down)
January 4, 2009: Currency Management for Little Countries (scroll down)
December 28, 2008: Currencies are Causes, not Effects (scroll down)
December 21, 2008: Life Without Cars
August 10, 2008: Visions of Future Cities
July 20, 2008: The Traditional City vs. the "Radiant City"
December 2, 2007: Let's Take a Trip to Tokyo
October 7, 2007: Let's Take a Trip to Venice
June 17, 2007: Recipe for Florence
July 9, 2007: No Growth Economics
March 26, 2006: The Eco-Metropolis