Let's Take a Traditional City Break 3: Life With Really Narrow Streets
May 1, 2011
Today we have another collection of Traditional City pics. The most important thing, in my opinion, is not to have a lot of verbalizing, but rather a lot of images. The way I see it, most City Design decisions are made on the basis of an internal image. Often this internal image is totally irrational.
February 13, 2011: Let's Take a Traditional City Break 2: More Really Narrow Streets Than You Can Shake a Stick At
February 6, 2011: Let's Take a Traditional City Break
The Traditional City is, first and foremost, a place for people walking. This makes sense, because, in the 7000 years before 1880 or so, that's what everybody did. Thus, the standard format is what I call a Really Narrow Street, which is a street designed for "pedestrians," which is our modern term for people. This is typically about 8 to 15 feet wide. Twenty or 25 feet would be on the wide side. There are parks, courtyards, gardens and so forth, but no wasted space in the form of Green Space or parking lots. You don't need it, because the main purpose of Green Space is to provide a buffer between the humans and the automobiles. Once you get rid of the automobiles, you don't need the buffer anymore. Thus, buildings are typically side-by-side and up against the street, with no setback, which is another form of "buffer." Once you design a place in the Traditional manner, for people instead of cars, then, oddly enough, you can allow a few delivery trucks and taxis and it is generally no big deal. Some places, notably Venice, Italy, have banned automobiles — and bikes! — altogether and … it was fine.
August 1, 2010: The Problem With Bicycles
We are starting to get a little traction with this Traditional City idea. That is why I pound these invented terms into your head with Capitalization and Endless Repetition. Because, people can look at a thousand different examples of a wonderful Traditional City — think of all the tourists in Paris or Rome — but, unless they are given some way to think about it, it makes no impression. They go back home and build Suburban Hell over and over again. Or, even worse, some New Urbanist abortion.
October 3, 2010: Let's Kick Around the New Urbanists
Here are some websites that have begun to chew on the idea of the Traditional City. If you want to discuss these things, go there.

Old Urbanist
CityTank
Metro Jacksonville
I'll warn you though: once you get the idea of the Traditional City in your head — or, better yet, once you have lived in an actual Traditional City environment for a while — then all that academicalese New Urbanist stuff sounds like a bucket of dog barf. Just warning you.
It's so easy:
Really Narrow Streets: 8-20 feet wide, for pedestrian use.
Buidings side-by-side and up against the street.
No Cars (you can have the occasional car, but the street should be designed for people, not cars).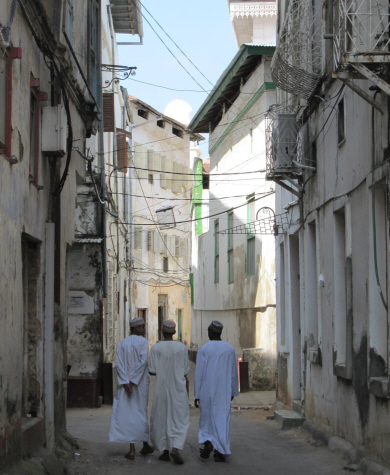 Zanzibar.
People get all worked up about architecture, which is to say, building design. You notice that building design is NOT one of my three basic principles of Traditional City design. That's because, as you can see in this photo, you can have some pretty crummy buildings and still get a good result, as long as you make Really Narrow Streets.
However, Traditional City design tend to lead to wonderful architecture as well. Why? Because the building is facing a pedestrian environment — the Really Narrow Street. In other words, the building interacts with people. What do you expect people to make when their building interacts with a parking lot or six lanes of traffic? You get a concrete bunker box.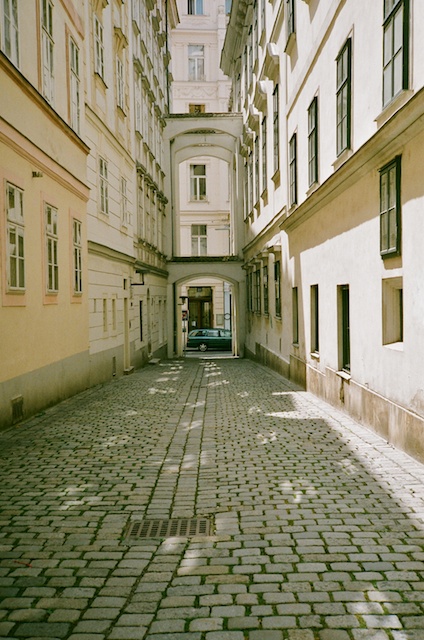 Vienna.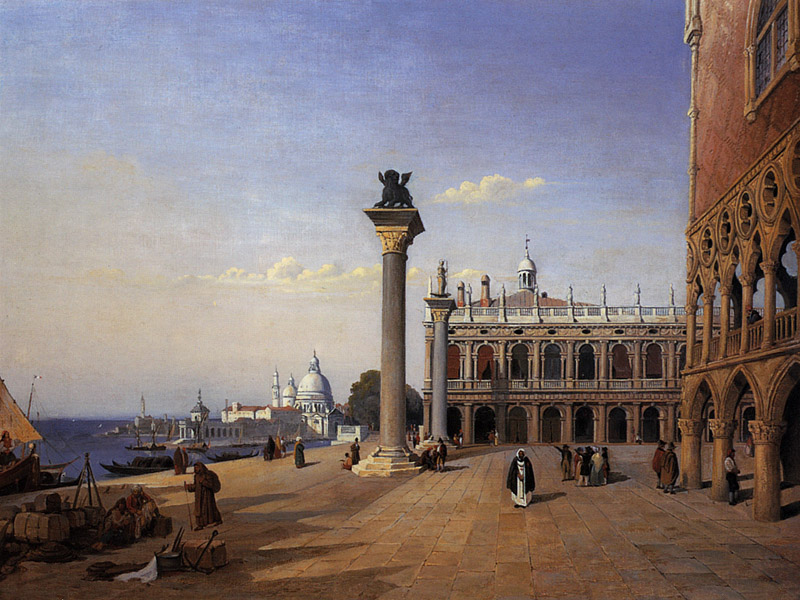 Venice, of course.
October 18, 2009: Let's Take Another Trip to Venice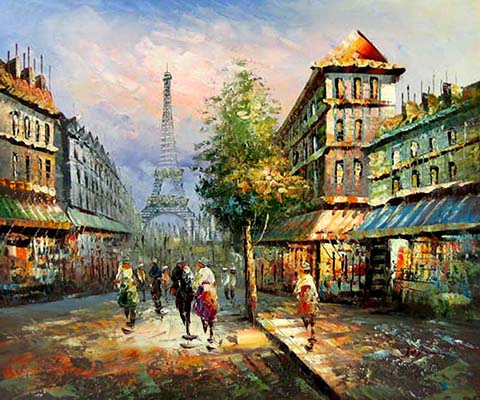 Paris. This is more of an "arterial" street, or even grand boulevard, but here depicted before automobiles.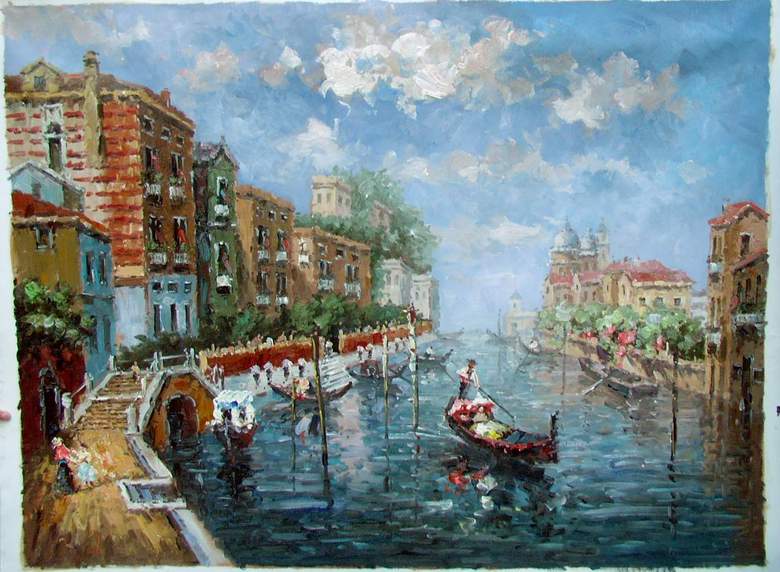 Shimbashi district, Tokyo.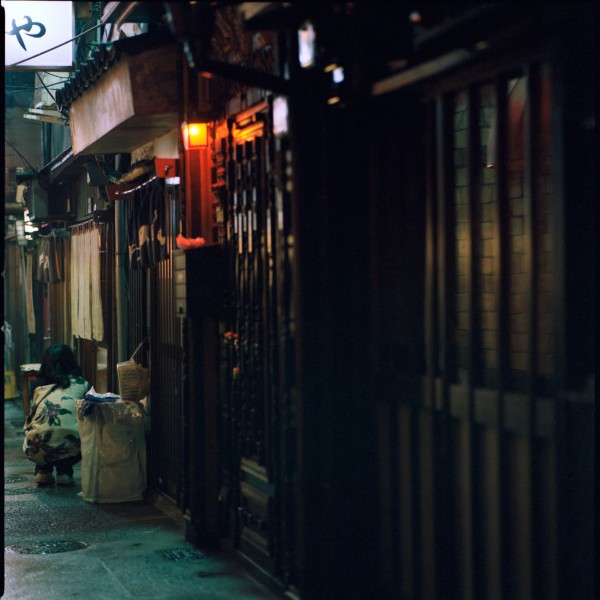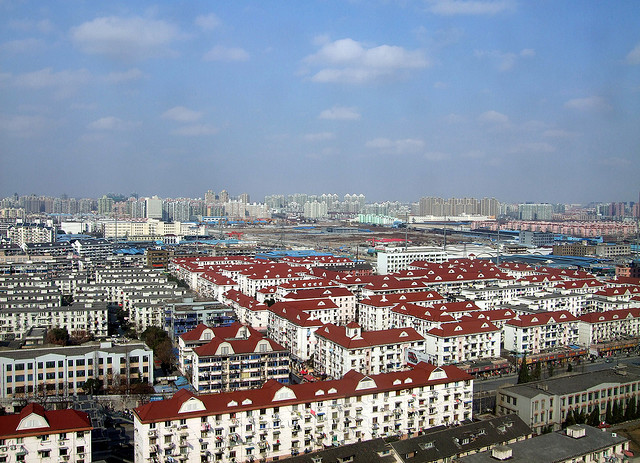 This is not a Traditional City, but an example of 20th Century Hypertrophism (large buildings, huge streets, Green Space). Actually, if they had built in the Traditional City style, they would have had both higher density and also a more pleasant environment. I put this here as an example of a typical mode of failure.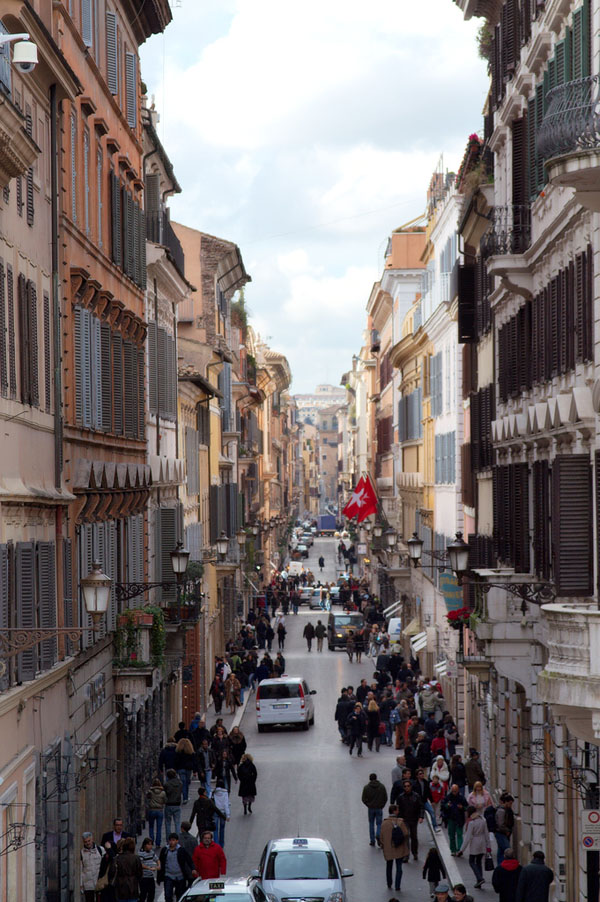 Rome. Too many cars here.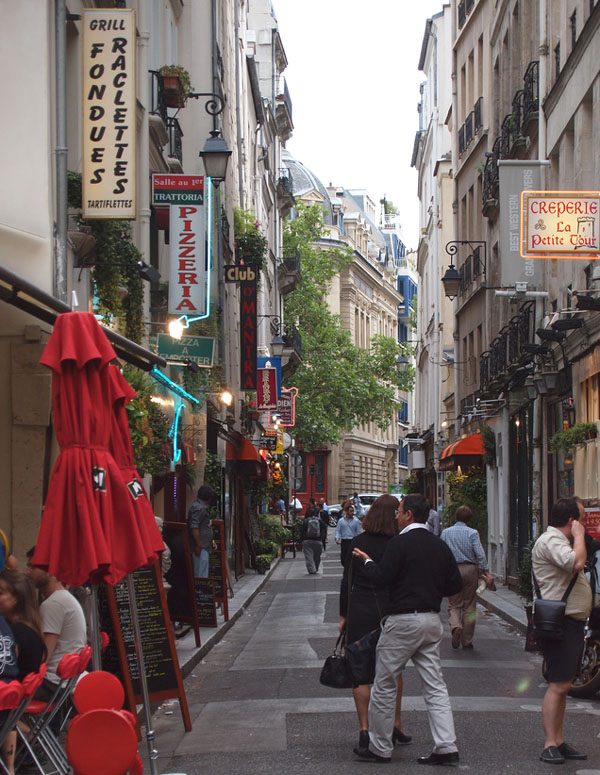 Paris. Now this is what a Really Narrow Street is supposed to look like. Gorgeous!
Here's something else to think about: look at the ratio of street width to building height. The street is about 12-15 feet wide, and the buildings are 4-6 stories high. In other words, about 4:1. That is a bit of an extreme — I wouldn't want to go much beyond that, I think, because things can get a little dim at street level. But, if you said, "let's make a street 13 feet wide and buildings 40-60 feet tall" to most people, they would have an anxiety attack. "Oh, no, that is so horrible! Like sardines in a can! Like rats in a cage!" Oh, how people go on and on. But, if you actually put these people — the very same people — in a place with exactly those dimensions, they say: "That is a gorgeous Parisian street. Let's call the travel agent and get on a plane for eight hours and spend $6,000, so we can spend one week of our life in a place like that instead of this horrible Suburban Hell."
Maybe you can understand why I say that I'm dealing with retards here. It's just the way it is.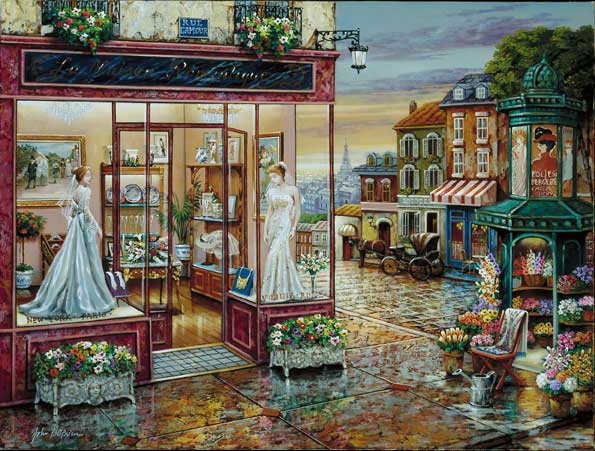 Paris.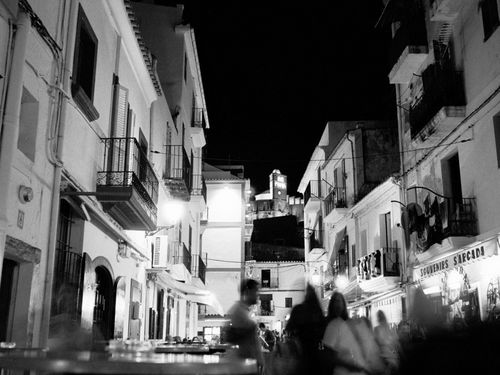 Ibiza.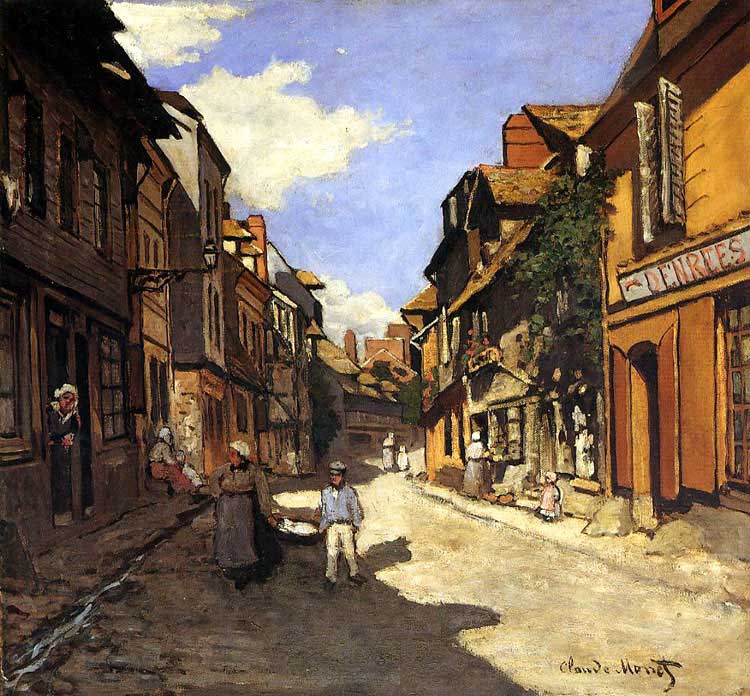 Monet.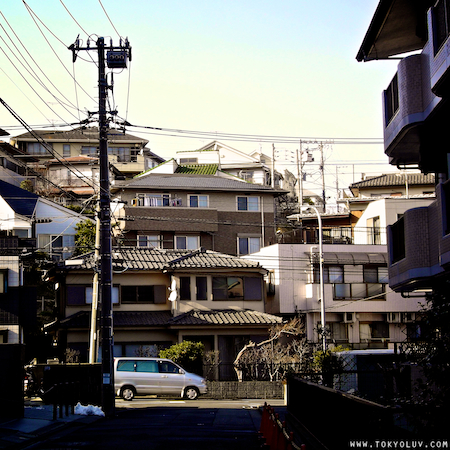 Houses close together, Hiyoshi district, Tokyo.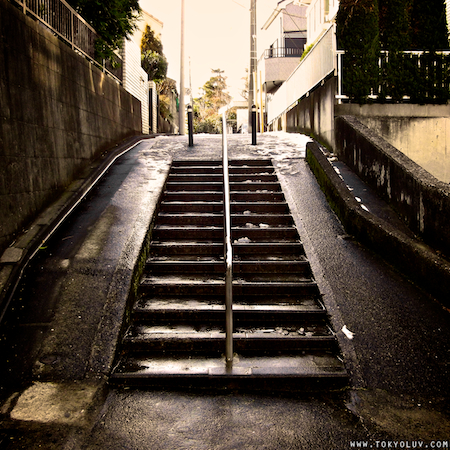 Hiyoshi.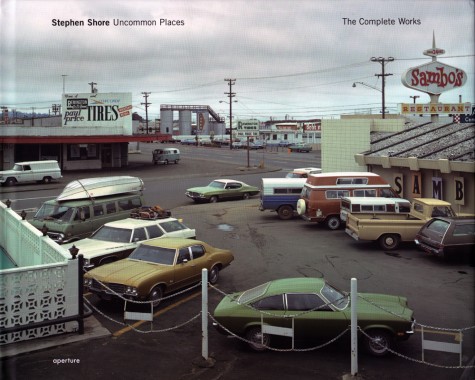 Stephen Shore, photographer of Suburbia. We will look at his stuff a little more later. Can you see the difference between Suburban Hell and the Traditional City? How much of this photograph is taken by Non-Place such as Green Space, parking lots, and automobile-dedicated roadways. Did you say "pretty much all of it"? What is the point of making a city that doesn't have any Places for people?
October 10, 2009: Place and Non-Place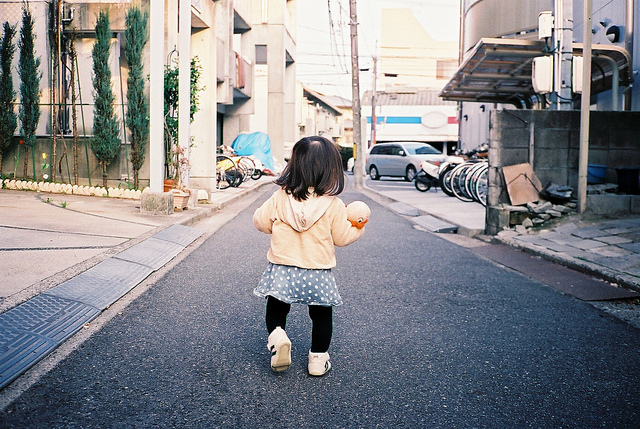 What's the width of this street?
This is a typical Really Narrow Street in a residential area in Tokyo. Although cars are not banned, and many people own cars, the street nevertheless remains a pedestrian-centric place, where little kids can play.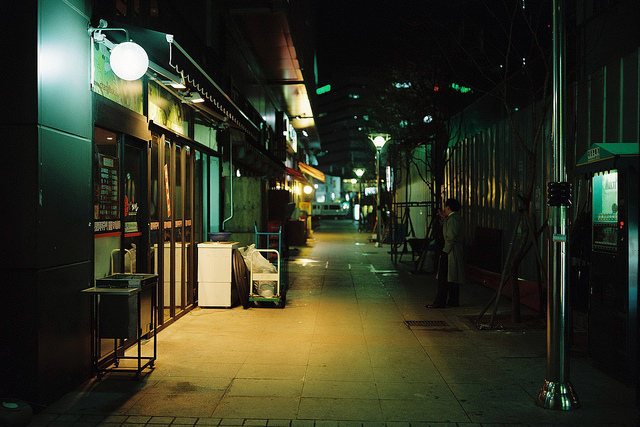 Where are … the bikes?
You don't need bikes in a proper Traditional City.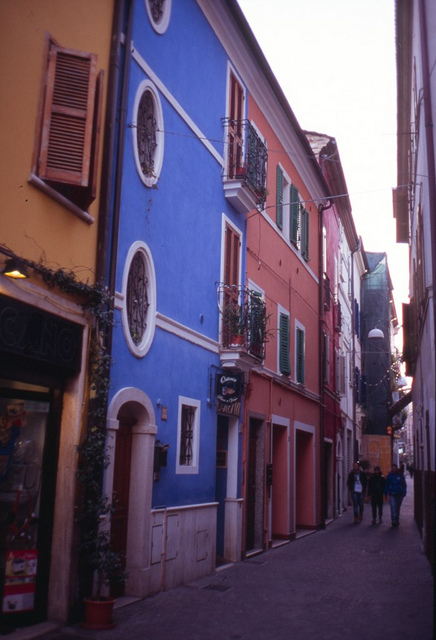 People lived this way for thousands of years … before bikes.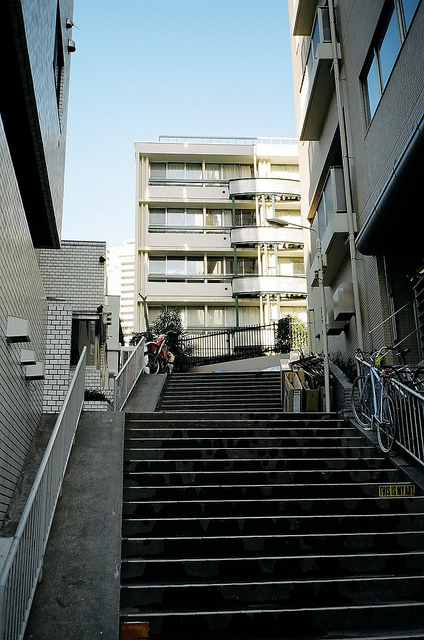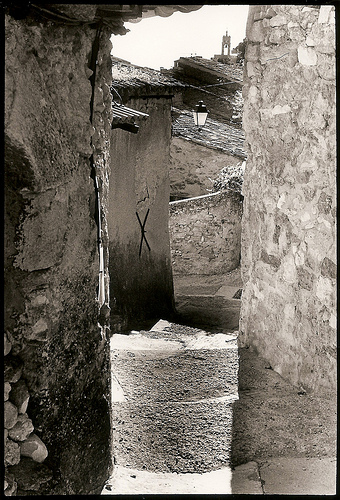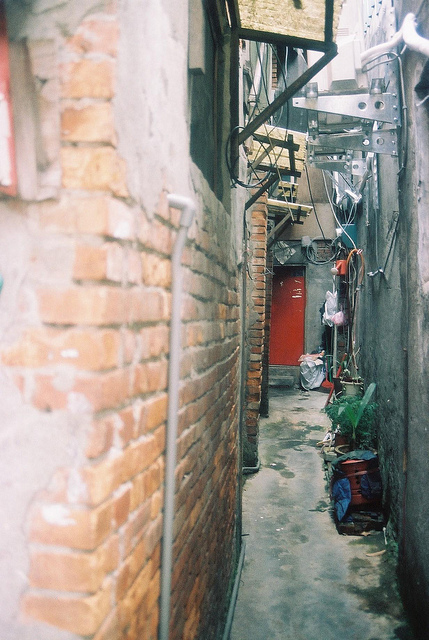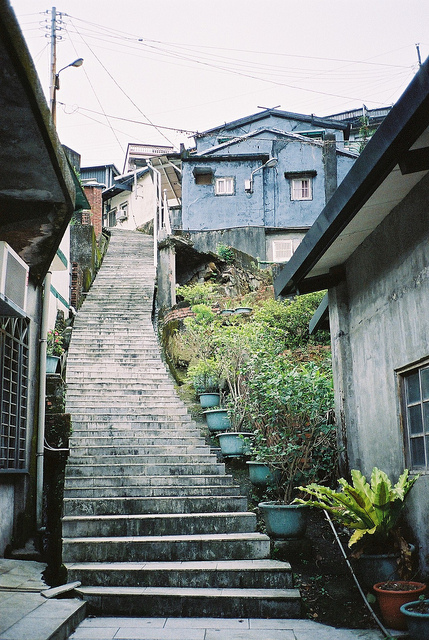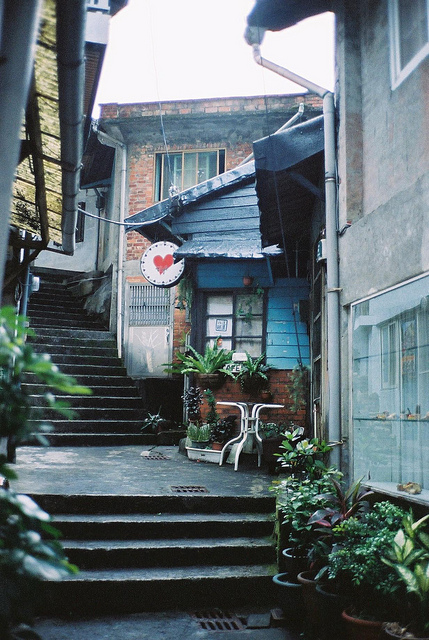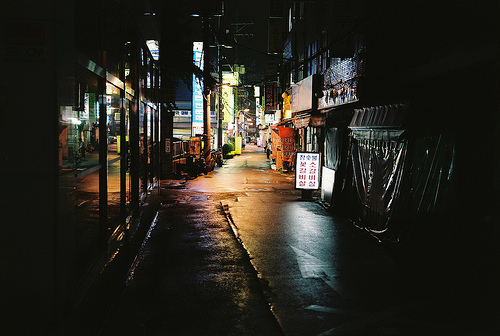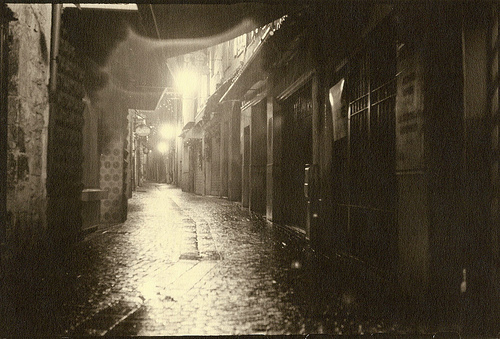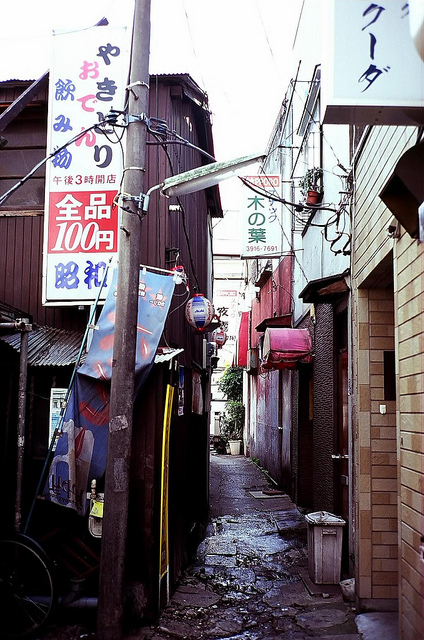 How wide is this one? There are a few bars and restaurants back there.
Standing in the middle of the street.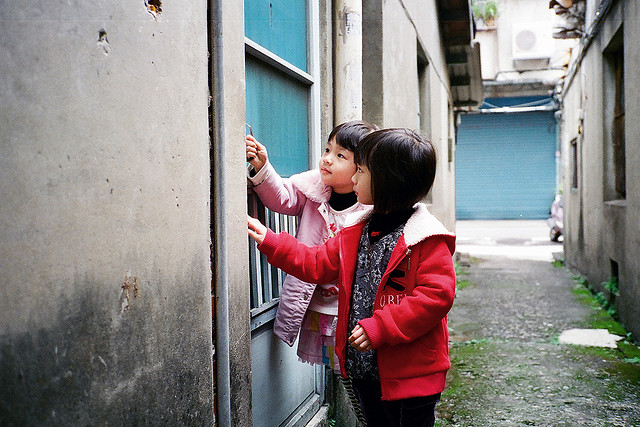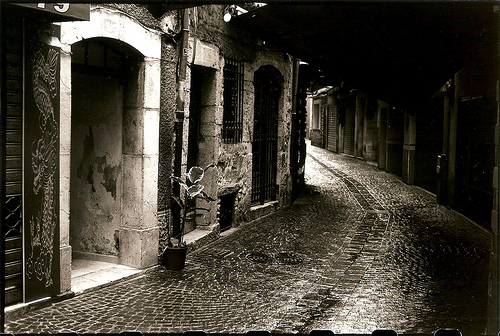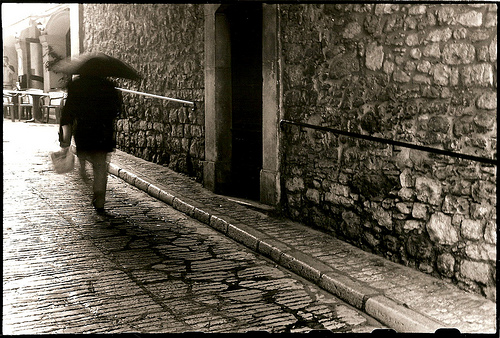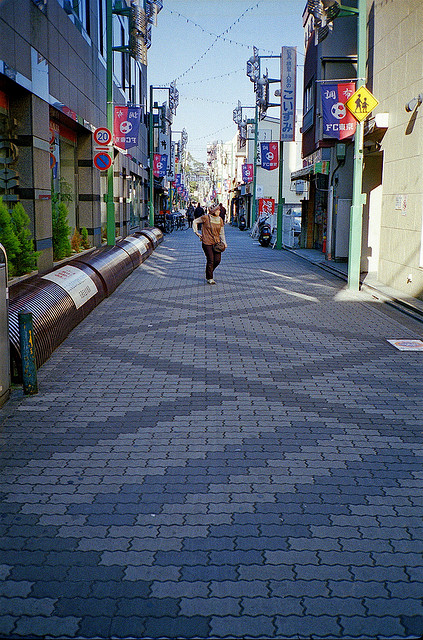 Where are the cars?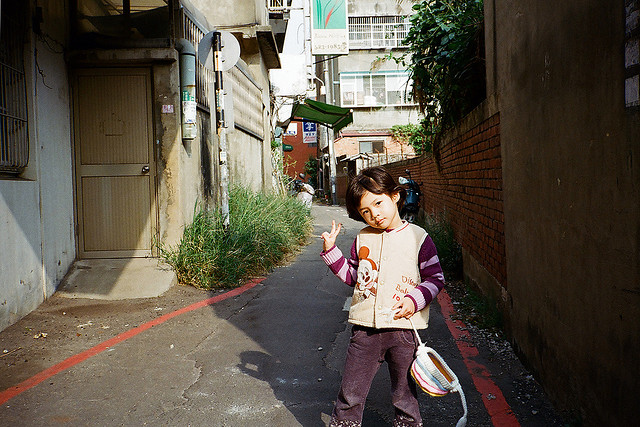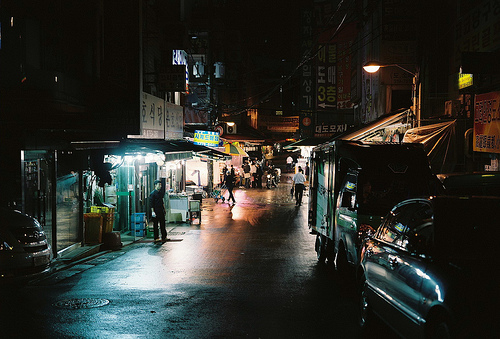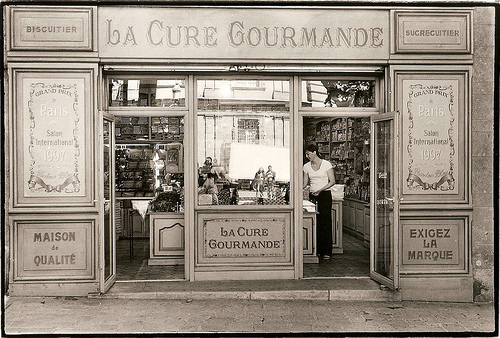 I included this as an example of a storefront that is very open to the street. When your store faces a pedestrian street, instead of roaring traffic, then it tends to open up and become more welcoming.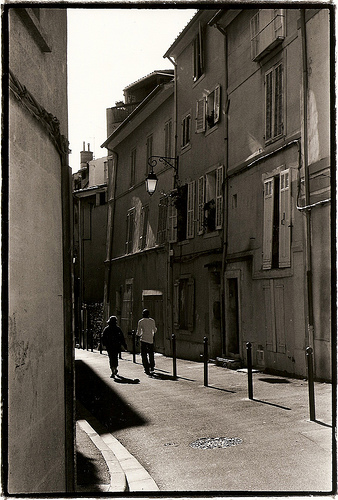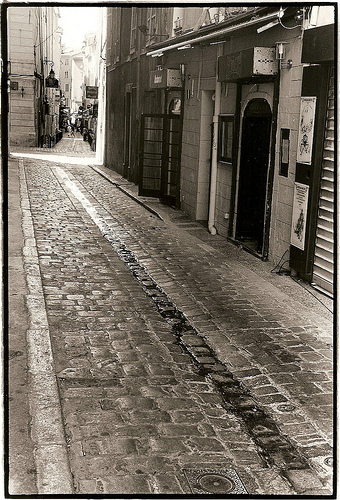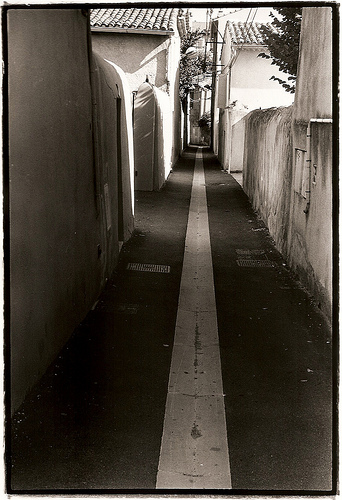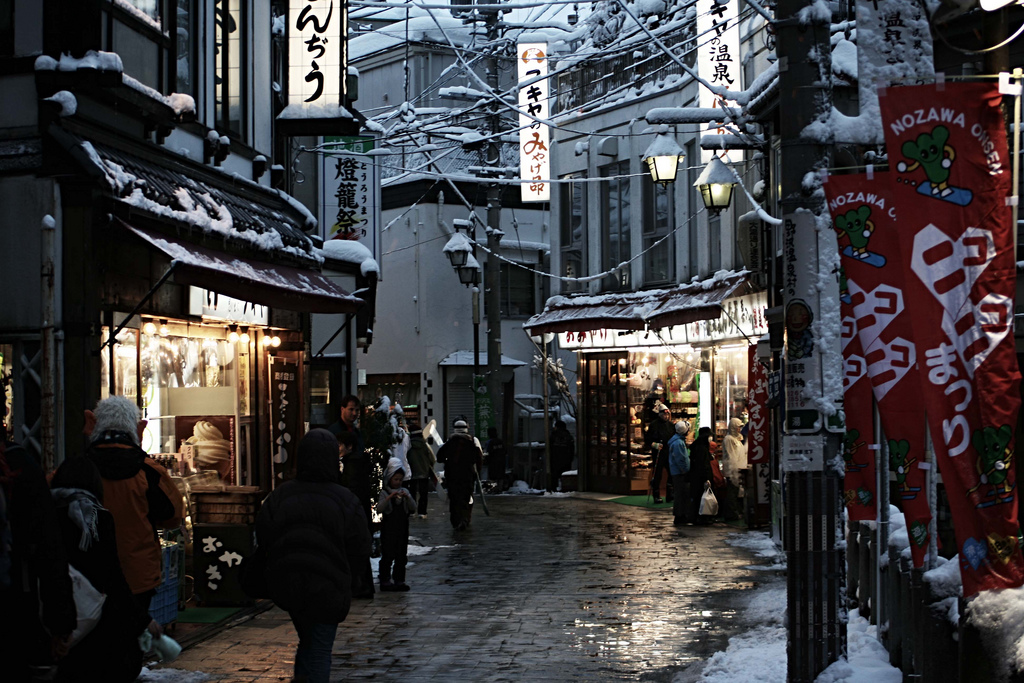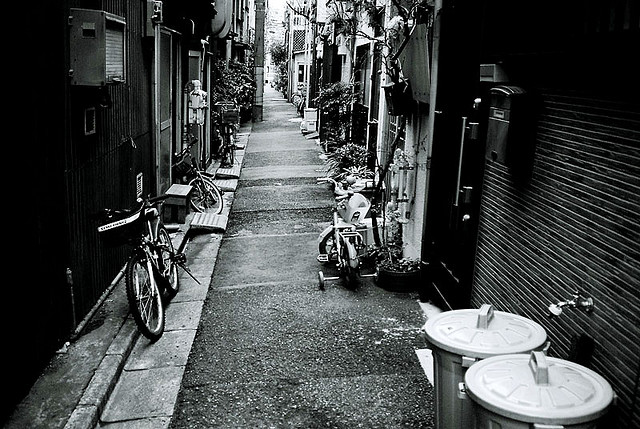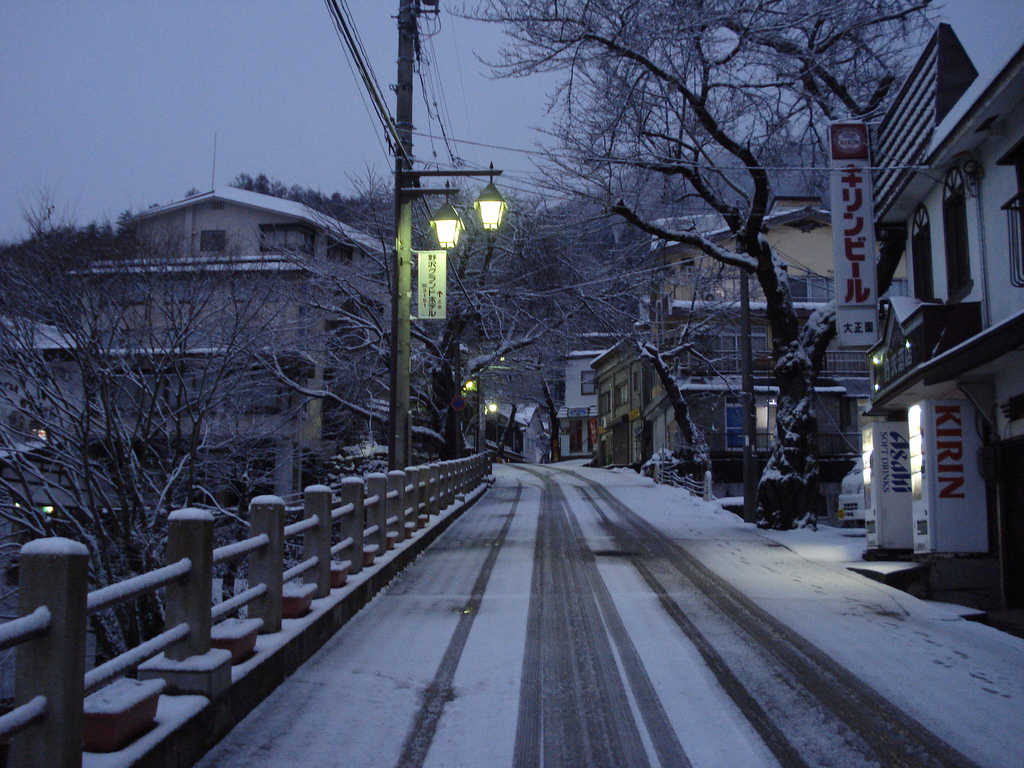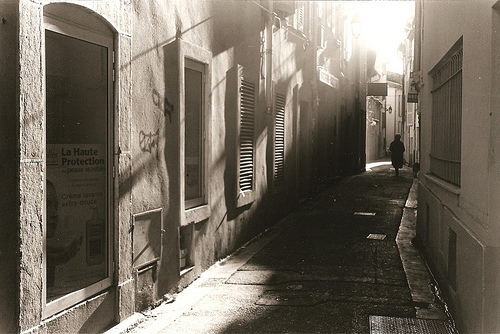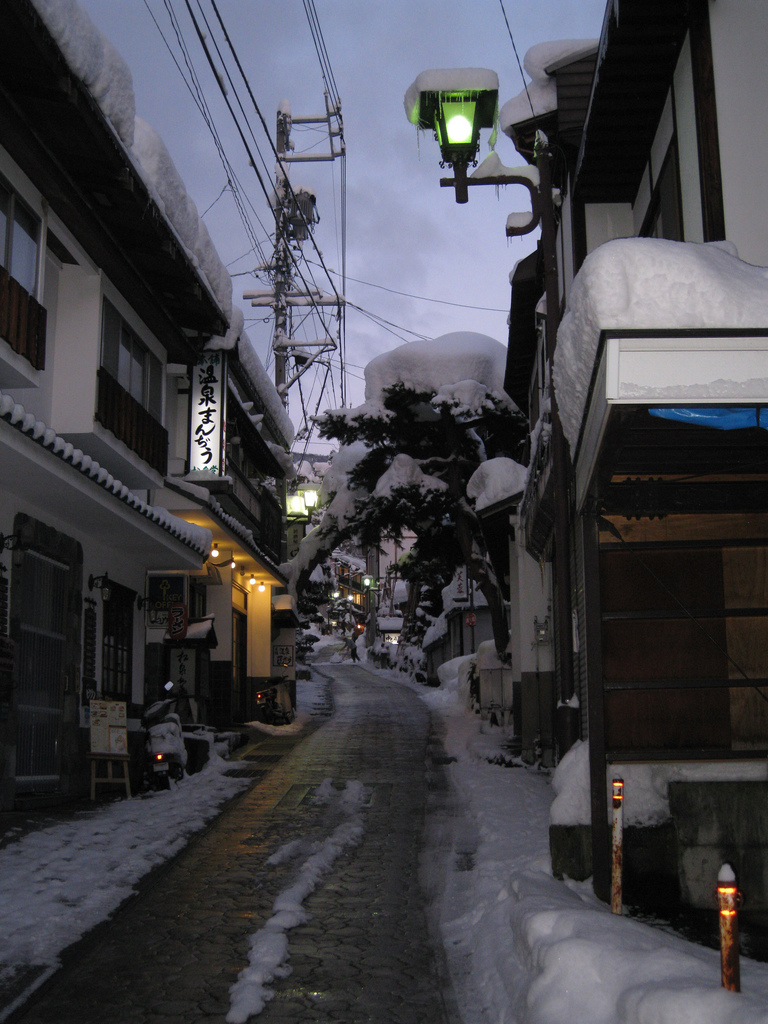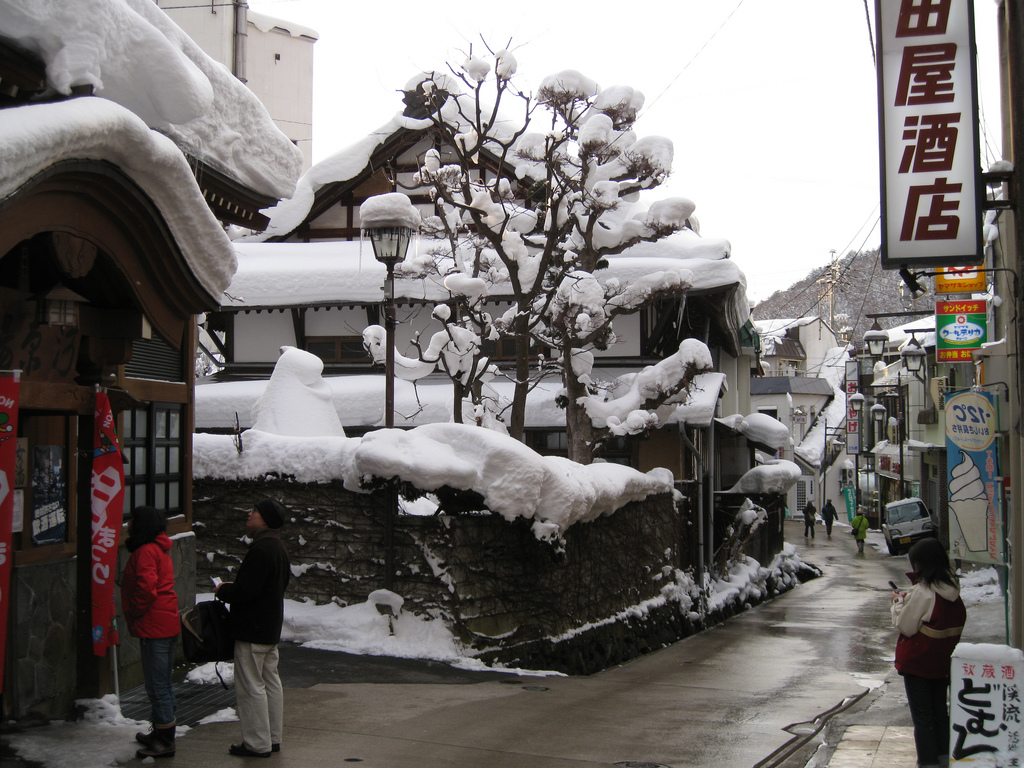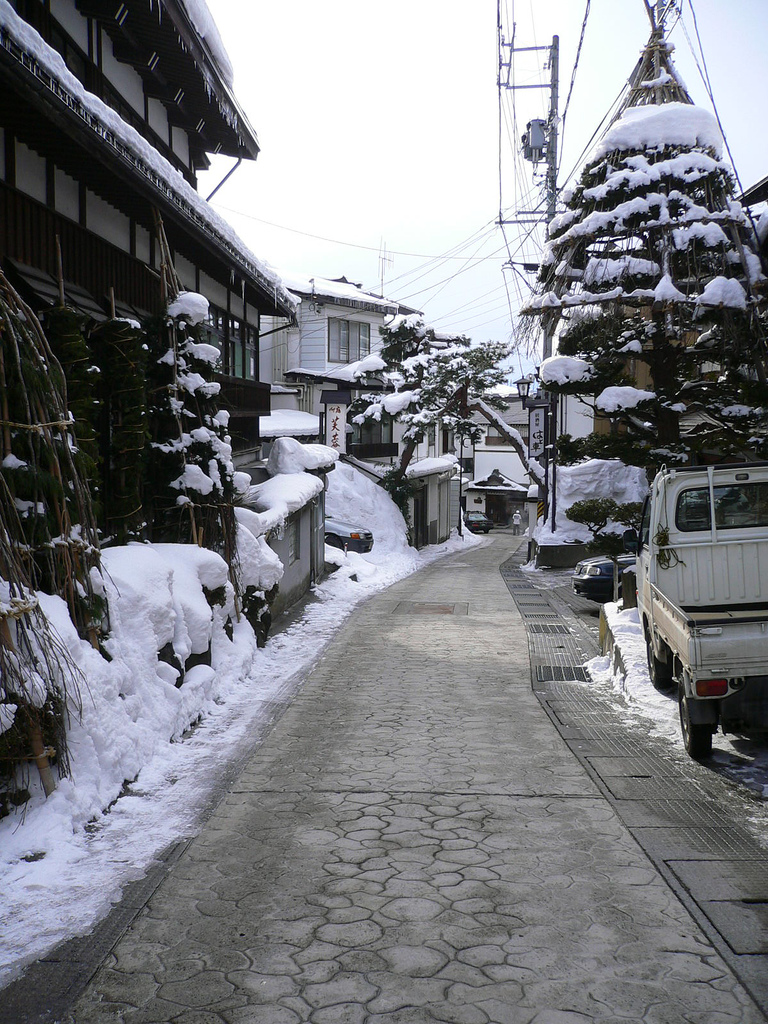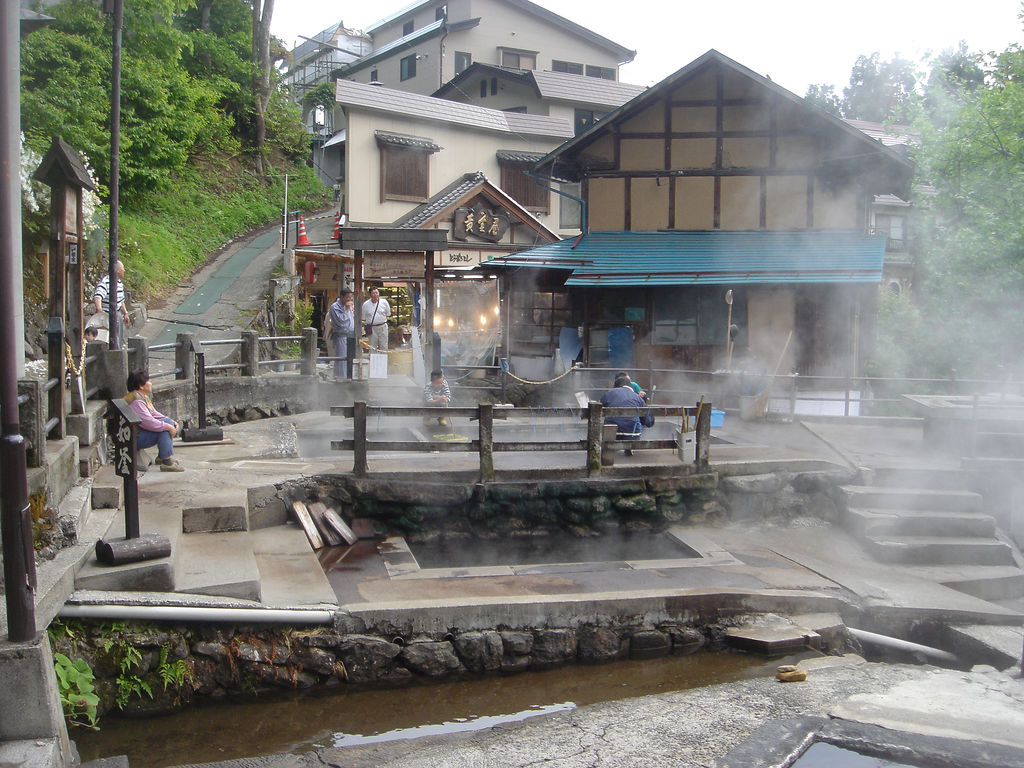 A public hot spring in Nozawa Onsen, Japan. It is pretty much sitting right in the middle of town.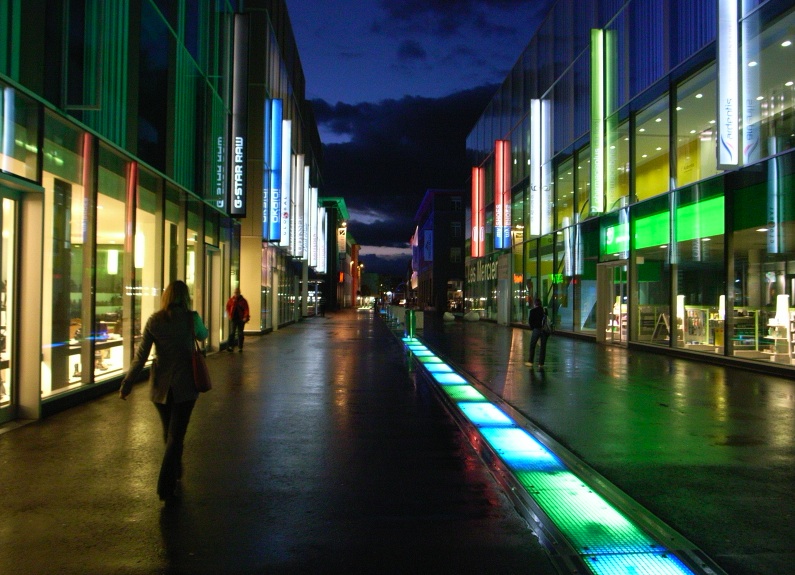 Here is a very contemporary-styled example of a Traditional City layout, with a pedestrian street and buildings "side by side." Do you see what I mean about architecture? Whether you have classic 18th Century French architecture, or this glass-and-steel stuff, you get a good result if you stick with the Traditional City formula. However, this street is much wider than it needs to be. It could be half the width, and would probably work better that way. When you get rid of the cars, you really don't need so much space. When I said that 25 feet is "on the wide side," you probably thought I was nuts, right? That is already so much narrower than the typical 60-100 feet width of the 19th Century Hypertrophic City. But here you can see what I mean. Twenty-five feet is a lot when you're dealing with a pedestrian environment.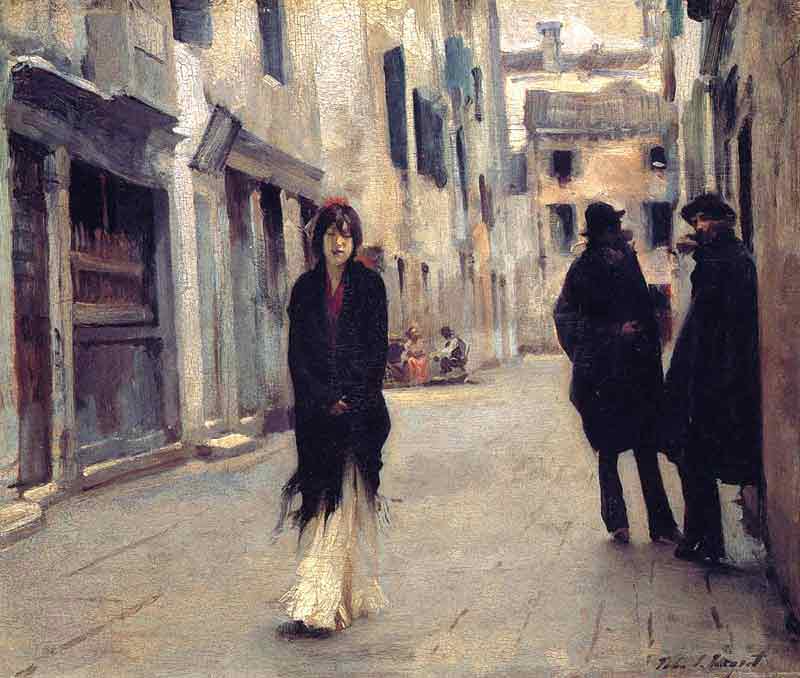 More like this.
Monet.